US cotton exporters look to double trade with Bangladesh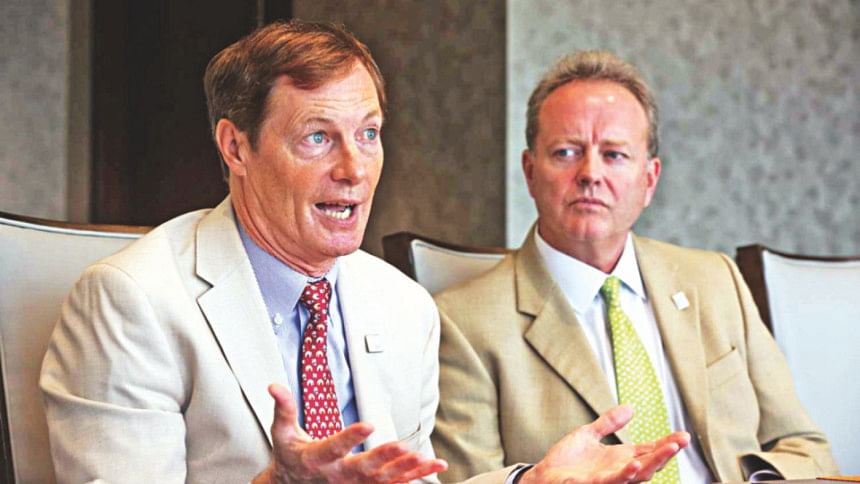 The US wants to double its cotton exports to Bangladesh over the next five years, said senior officials of the Cotton Council International or CCI.
"We want to double the export of cotton to Bangladesh in next five years and it is possible as Bangladesh is the number one importer of cotton now," said CCI President Keith T Lucas Lucas.
Last December, Bangladesh became the largest cotton importer worldwide because China stopped importing cotton due to its previous stockpiling.
Currently, the US exports 160,000 bales of cotton in a year to some Bangladeshi spinning mills, which is only 3 percent of the total consumption of cotton by the country in a year, according to Bruce A Atherley, executive director of CCI, the export arm of National Cotton Council of America.
Atherley and Lucas came to Dhaka to attend a seminar on cotton, and on the sidelines, sat down with The Daily Star for an interview.
If Bangladesh's garment exports increase at the targeted rate of 12 percent, the country's cotton consumption will increase by 10 percent, Atherley said.
Cotton consumption in Bangladesh has been increasing because almost all globally renowned apparel retailers like H&M, Zara and Walmart purchase garment items from here in bulk, he said.
With higher demand for garment items from international retailers, the backward linkage industries like spinning, dyeing, finishing, weaving and printing industries have developed lots in Bangladesh.
The local spinners can meet 90 percent of the demand for raw materials by the knitwear sector and the weavers can supply 40 percent of the demand for woven sector, according to industry insiders.
"We have the opportunity to expand our business here as the US produces one of the finest varieties of cotton," Atherley said.
Bangladesh imported 5.75 million bales of cotton last year and it may cross 5.9 million of bales in next year. The cotton year starts on August 1 and ends on July 31.
"Bangladesh has a rich history in cotton use. It is very important for the US cotton," he said.
Since 2009, when the prices of cotton increased abnormally, China started stockpiling cotton and last year they stopped importing altogether to clear the stock.
Currently, China has 60 million bales of cotton in stock, which is nearly half the global demand.
However, China will have to import its minimum quota of cotton at 4.5 million bales to help maintain stability in the global market, as per the revision done this year to the law of cotton trade, according to Atherley.
China uses 30 million bales of cotton in a year, making it the biggest consumer of the natural fibre in the world.
But 10 years ago, China used to consume 50 million bales for having higher number of mills.
He, however, said China is also the highest consumer of polyester fibre, and currently China alone manufactures 75 percent of the global demand for polyester.
"We like Bangladesh because cotton consumption here has been increasing every year, whereas in other countries it is decreasing because of the use of polyester fibre."
Atherley said the demand for US cotton is higher because the fibre is very consistent, clean and dependable.
Cotton export by the US varies with production, he said.
Domestic consumption of cotton in the US is 3.6 million bales a year, while production last year was 12.5 million bales. In the upcoming harvest, the US is expecting cotton production at 15.8 million bales. At present, Bangladesh imports 50 percent of its total demand for cotton from India, which might change in the near future seeing the neighbouring country's spiral in consumption.
"Bangladesh has a stable government and has been maintaining higher GDP ratio and I think the labour is available and people are investing in the spinning mills and garment industry."  The country's aim to hit $50 billion in garment exports by 2021 is also an important factor for higher cotton consumption, he said.
"We are expecting the global demand for textile will increase between 5 to 6 percent year-on-year and the cotton demand to 1 or 2 percent globally every year," Lucas said.
Lucas ruled out the possibility of any price volatility of cotton as seen in 2009, 2010 and 2011.
In those years, cotton prices crossed $2 per pound from its many years' price range of 55 cents to 60 cents per pound worldwide. "The speculative fund pushed the prices of cotton worldwide. I don't think the price range will be higher," Lucas added.