US congresswoman supports Dhaka's trade preferences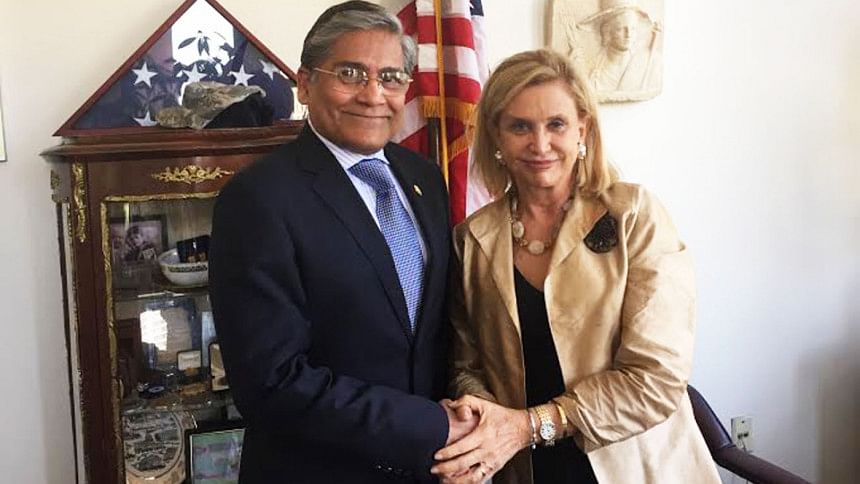 US congresswoman Carolyn B. Maloney has expressed her support for Bangladesh's persistent call for restoration of trade benefits for exports to the US market.
Maloney, also a member of the Bangladesh caucus, also praised the present government's fight against violent extremism as well as initiatives for empowering women in a democratic dispensation.
"Bangladesh is a democracy and is fighting against terrorism and extremism…Why you should not be allowed duty and quota free access in the US market," Maloney (D-NY) said during a meeting with Bangladesh Ambassador Mohammad Ziauddin in New York yesterday.
She assured that she along with other members of the caucus would raise the matter with the US administration so Bangladesh can get the trade preferences in the American market, said a press release of Bangladesh embassy in Washington DC.
During the meeting that lasted more than half an hour at the Congresswoman's Manhattan office, the Ambassador briefed Maloney on wide range of issues including current political situation in Bangladesh, Prime Minister Sheikh Hasina's zero tolerance against religious extremism, women empowerment, bilateral trade and investment and Bangladesh-US multifaceted cooperation, the press release read.
Maloney also appreciated the Prime Minister's all out efforts for empowering women economically and politically as a 'great' initiative.
Minister (Press) Shamim Ahmad and Counsellor (Political) Nayem Ahmed of the Bangladesh Embassy in Washington were present in the meeting.