Trade-based money laundering on the rise
BIBM finds in a survey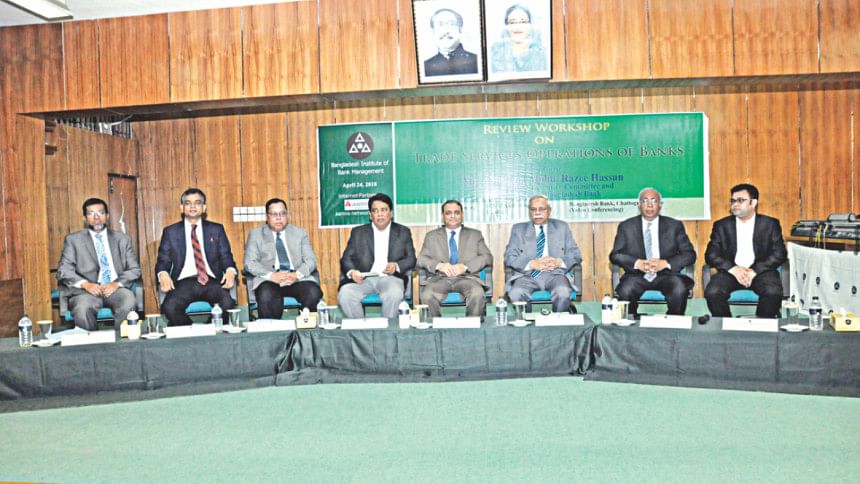 Trade-based money laundering is a growing concern for the banking industry amid rapid expansion of foreign trade, according to a recent survey by the Bangladesh Institute of Bank Management.
Bangladesh's external trade stood at about $80 billion in 2016-17 and it has been growing thanks to the steady economic growth over the past decade, it said.
Among the trade-based money laundering techniques, over- and under-invoicing of goods and services and misdeclaration of goods are commonly used in Bangladesh, the survey on trade services operations of banks found.
Money laundering is facilitated by collusion between importers and exporters and bank officials are sometimes forced to get involved in the illegal transactions, it said.
A lack of proper price assessment is responsible for money laundering through foreign trade activities, said Helal Ahmed Chowdhury, supernumerary professor of BIBM.
The report quoted a Customs Intelligence and Investigation Directorate (CIID) case involving several fake firms that were attempting to release restricted items imported in 12 containers through the Chittagong port by declaring them as capital machinery.
CIID conducted a drive and found various products, including huge amounts of cigarettes, LED television, photocopy machines and powdered milk worth Tk 138 crore.
The investigation found that the firm opened letters of credit using fake documents and fake photographs. The same importer had earlier brought in 78 containers in the name of capital machinery.
The value of the total imported goods was Tk 1,040 crore but the importer paid only Tk 3.47 crore through the banking channel; the rest of the money was laundered through unofficial channels.
Another case study showed how malpractices of bank officials created forced loan without any adjustment of the export proceeds.
An export-oriented company opened 49 back-to-back LCs against some export LCs.
The customer moved the export proceeds out of their account without making payment for the back-to-back LCs and it was made possible with the help of some bank officials.
Later, the bank made a forced loan against the respective customer.
Misdeclaration of pricing of the imported and exported products is a great concern for trade-based money laundering, Moinul Khan, commissioner of Customs Valuation and Internal Audit Commissionerate, said at the unveiling of the survey report yesterday.
"There is a minimum price limit for products but no maximum limit. As a result, fraudsters can easily launder money," he said
Of the total laundered amount, 80 percent are done through trade activities, he said.
A systemic audit from both customs and banks can play a role in prevention of trade-based money laundering, he said.
Financial crime is growing in the foreign exchange market along with increasing international trade, said Mohd Humayun Kabir, executive director of Bangladesh Bank.
"Bank officials will have to be trained to fight the challenge of money laundering," he added.
Shah Md Ahsan Habib, professor and director of BIBM, presented the findings of the survey.