3G internet gains momentum
Telcos added one crore users last year; operators call for reducing handset taxes to help 3G services flourish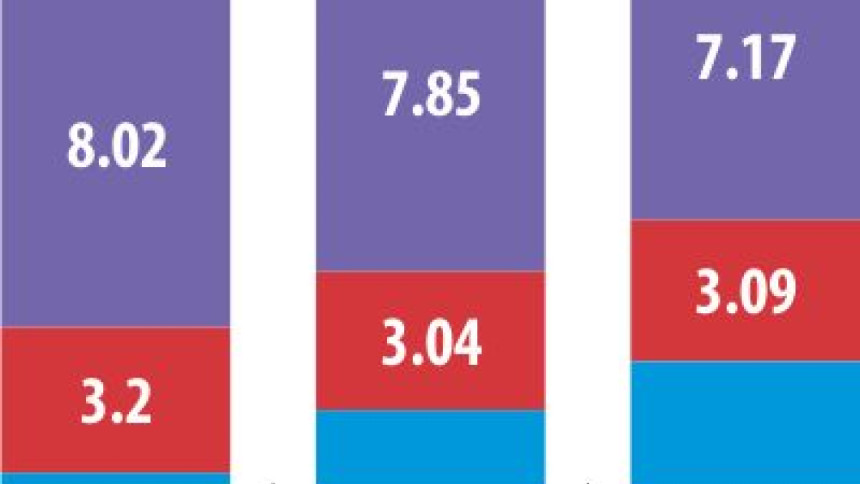 The number of 3G mobile internet connections rose 60 percent year-on-year to 2.88 crore in fiscal 2015-16, according to a draft report of the telecom regulator.
As of June, 5.97 crore SIMs had internet connections, and of them, 48.28 percent were enjoying the fastest data service. Total active SIMs at that time were 13.14 crore.
Industry insiders said it is a success of the operators. Due to higher investments in 3G rollout, people were able to experience the fastest data service, they said.
Bangladesh Telecommunication Regulatory Commission will publish the report soon, said an official.
"We are quite satisfied with how things are going forward in the industry," the BTRC official said.
Average data consumption per user has seen significant growth over time, fuelled by an access to a wide range of digital lifestyle solutions, social media and other applications, he added.
From July last year to June this year, the industry added 1.08 crore 3G customers.
However, operators said they can grow further if the ecosystem supports them as expected.
TIM Nurul Kabir, secretary general of Association of Mobile Telecom Operators of Bangladesh, said they have invested a lot to deliver high speed data services but the ecosystem is not ready enough.
"Although 3G network has spread across the country, smartphone penetration is still less than 25 percent," said Kabir. The government should cut handset taxes to help 3G services flourish, he added.
However, data users and experts are unimpressed.
Mustafa Jabbar, president of Bangladesh Association of Software and Information Services, said the numbers may be increasing, and that is the common trend in the current digital world. "But the services we are getting from the operators are terrible."
Operators are offering data in megabytes but what users are getting is only a few kilobytes, he added.
As of June 2015, there were 4.84 crore SIMs connected to the internet and 38.38 percent of them were 3G-enabled at that time, according to BTRC.
Total active SIMs were 12.60 crore in the market at that time.
Internet connections are increasing every year, and maintaining the pace, the number of SIMs without internet connections is declining.
The telecom watchdog arranged an auction and awarded four 3G licences in September 2013. Within a month, private operators began their services.
Teletalk, the lone state operator, began its services without a licence in October 2012.
The industry's 3G connections stood at 44 lakh in June 2014; Teletalk had a majority at that time. The major players have already covered all the districts, towns and growth centres with 3G services.
Market leader Grameenphone covered more than 10,000 sites across the country with 3G, while its nearest competitor Banglalink covered 6,000 sites.
Robi has 4,500 3G sites, while Airtel, which is waiting for merger with Robi, has 1,700.
As of June, Grameenphone had 2.18 lakh active internet connections, with customers using an average of 502MB data a month.