Tax Receipts in 9 Months: Tk 50,500cr short of target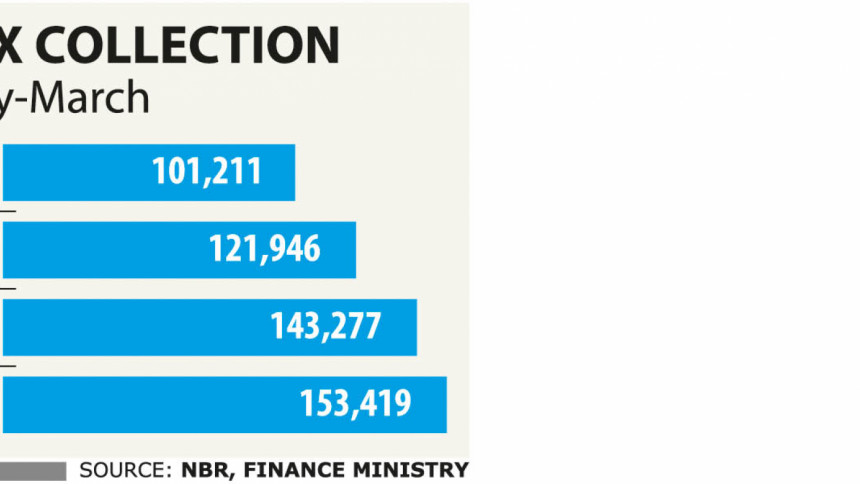 Revenue collection is poised to fall short of target by a big margin this fiscal year, with receipts growing the lowest in five years in the first nine months due to sluggish collection of customs tariff and value-added tax.
Between July last year and March this year, the National Board of Revenue managed about Tk 153,419 crore in collections, up 7 percent from a year earlier, as per its provisional data.
The amount missed the periodic target by nearly Tk 50,500 crore.
The government has assigned the NBR to collect a total of Tk 296,201 crore in 2018-19 and the revenue authorities will have to collect more than Tk 142,000 crore in the remaining three months to meet the target -- an unfeasible option.
In an analysis last month, the Centre for Policy Dialogue, citing finance ministry data, said the total revenue shortfall, comprising both tax and non-tax revenue, might reach about Tk 85,000 crore towards the end of the fiscal year if the current trend in revenue mobilisation continues.
Even if the revenue collector is able to achieve the highest annual growth recorded in the last ten years, the revenue shortfall is going to be Tk 72,000 crore, it said.
"The revenue mobilisation scenario in 2018-19 appears to be even more dismal," said the think-tank.
Officials blamed the VAT waiver on various goods and services -- including the exemption of VAT, supplementary duty and advance trade VAT on the import of liquefied natural gas -- and the reduction of the indirect tax on internet usage for the low collections.
As per NBR estimates, the two sources would cause a revenue loss of Tk 12,000 crore. During the nine-month period, revenue collectors logged in Tk 56,438 crore as VAT, up 6.52 percent year-on-year.
Collection of customs tariff, mainly from imports, grew only 1 percent, reflecting the slowing trend of import. 
Imports grew 5.13 percent to $45.79 billion in the first nine months, according to data from the Bangladesh Bank.
Despite the slow growth of collection of indirect tax, direct tax receipts increased 12 percent year-on-year to Tk 46,317 crore during the period.
An official of the NBR said the results of various tax measures that were taken in the budget are yet to come through in full.
The interest on bank deposits is one of the main sources of tax. But the low growth in deposits has affected collection from this area too, he added.