Stagnant private investment hinders Bangladesh's growth: ICCB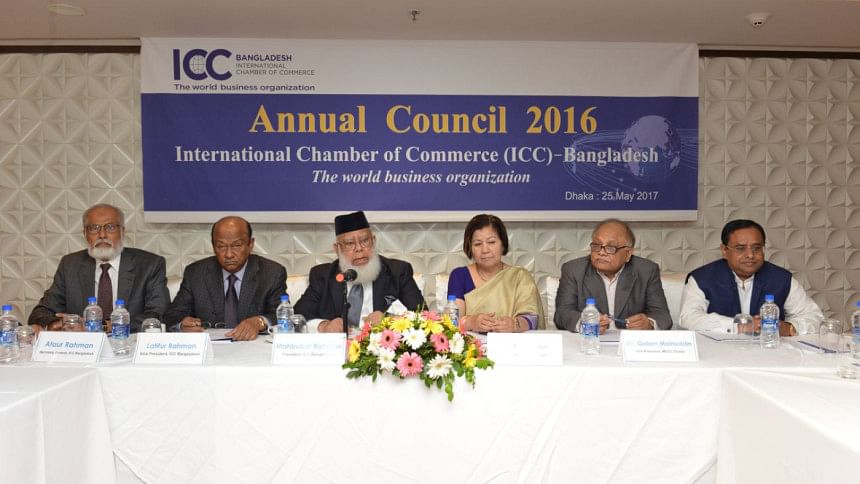 Bangladesh faces formidable challenges in moving to a higher growth path of 8 percent plus GDP to become a middle-income country, Mahbubur Rahman, president of International Chamber of Commerce Bangladesh, said yesterday.
The foremost challenge lies with the stagnant private investment followed by weak institutional capacity to implement development projects, he said.
To achieve its goal of middle-income country status by 2021 and to accelerate inclusive growth as well as reduce poverty and income inequality, the country will require a substantial increase in yearly investments from 29 percent of GDP in fiscal year 2015 to 34.4 percent of GDP by fiscal year 2020, he said.
He spoke while presenting the executive board report at the ICC Bangladesh Annual Council held in Dhaka yesterday.
Bangladesh economy embraces 2017 with some other challenges that include declining remittance and rising nonperforming loans from the domestic side, according to the report.
Volatile global and gulf region politics, and troubled European economy pose threats as external sources, it said.
Following the European debt crisis and depreciation of different currencies against the US dollar, the pace of recovery of the European Union economies—the primary destination of Bangladeshi exports—will be critical in 2017, the council report added.
According to a World Bank report, Bangladesh is both an inspiration and a challenge for policymakers and practitioners of development.  While the poverty reduction efforts to date have been extraordinary, Bangladesh faces daunting challenges with about 28 million people still living below the poverty line, Rahman said.
The country is at an important juncture when with the right policies and timely action, it can move up within the middle-income bracket, he said. However, Bangladesh economy is moving on a stable path, despite external and internal challenges, the report said.
With positive near-term macroeconomic outlook, declining inflation, rising reserve, contained fiscal deficit and stable public debt indicates brighter prospects, it said.
The country is among the top 12 developing countries, who achieved 6 plus percent growth in 2016 and one of the top performers in Asia over the past decade.
According to experts, Bangladesh economy is doing well by any standards and Bangladesh's economic and social achievements are widely acclaimed around the world, Rahman said.
The council adopted the executive board report and audited financial statements of ICC Bangladesh for 2016.
Rahman presented congratulating memento to Envoy Group Chairman Kutubuddin Ahmed and Meghna Group Chairman Mostafa Kamal for receiving DHL-The Daily Star Business Award as Business Person of the year 2016 and Enterprise of the year 2016 respectively.
Latifur Rahman and Rokia A Rahman, vice presidents of ICCB, were also present among others.