Smartphone imports rise as 3G internet spreads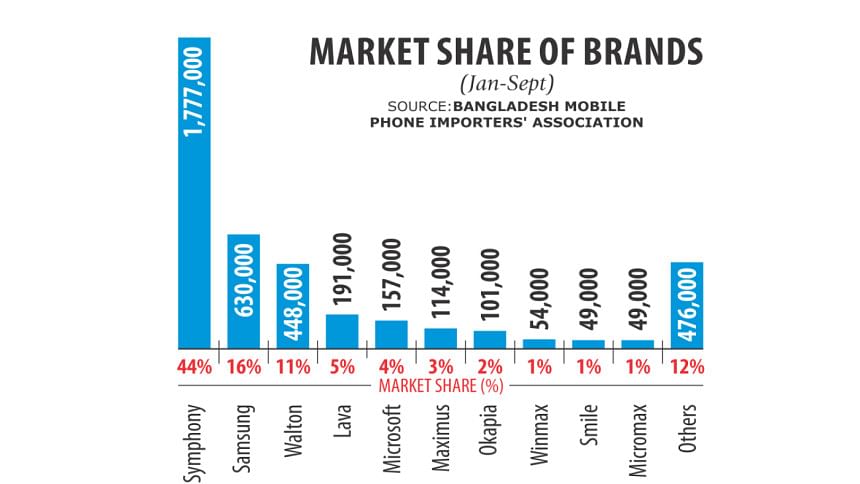 Smartphone imports rose 28.25 percent year-on-year to 40.45 lakh units in the first nine months of 2015, keeping up with the rapid spread of 3G internet services, according to Bangladesh Mobile Phone Importers' Association.
Symphony, the market leader and a local brand, brought in some 17.77 lakh handsets during the period, firmly holding on to its lead in market share at 44 percent this year.
This was, however, lower than its 54 percent market share in 2014, when it imported 17.09 lakh smartphones in the first nine months of the year. 
Walton, another local brand, imported some 4.4 lakh smartphones, grabbing an 11 percent market share, according to the association.
All the smartphone brands of Bangladesh, though registered as local companies, have no production facilities in the country. They mostly import their products from China. 
"Local smartphone factories will appear as soon as two years from now, as market growth will make it necessary for sustainable supplies," said Rezwanul Haque, general secretary of the importers' platform.
Samsung, a Korean brand, brought in 6.3 lakh handsets till September. 
The first half of the year was sluggish for business due to political turmoil, but sales picked up later, Haque added.
Increasing use of the internet also boosted smartphone sales, he said. 
"Smartphone imports will reach about 60 lakh by the end of this year, compared to 40 lakh in 2014," Haque said. "The numbers may hit one crore next year, according to our calculations."
During January-September this year, Lava imported 1.91 lakh handsets, with a 5 percent market share.
Microsoft, Maximus and Okapia brought in 1.57 lakh, 1.14 lakh and 1.01 lakh handsets respectively.
Winmax, Smile, Micromax and other brands imported 4.76 lakh devices.
The sector has imported some 1.91 crore feature phones till September -- Symphony took the lead with a 38 percent market share and imports of 72.17 lakh handsets.
Winmax imported 15.97 lakh sets, with an 8 percent market share, while Samsung took the third position with a 5 percent share.
The sector imported some 2.59 crore smart and feature phones last year, and the number is poised to cross three crore this year, Haque said. 
"Feature phone may not see any growth, but it will still remain significant in numbers in the next few years," he added.