Smart accessories making life smarter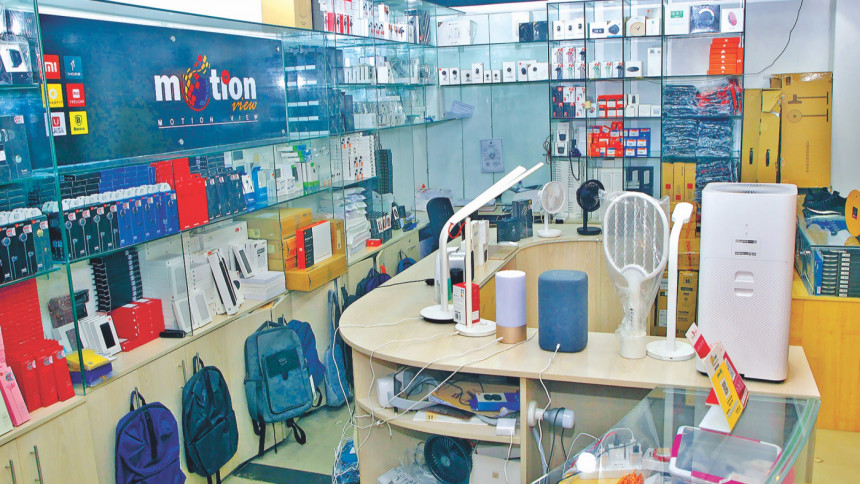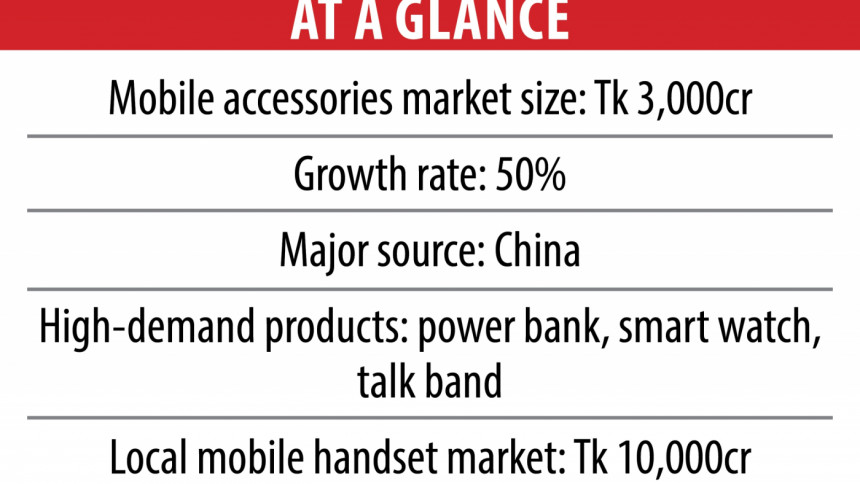 Smart mobile accessories and smartphone-related wearable product imports are soaring on the back of the rising propensity towards a digital lifestyle.
Currently, the annual market for smart accessories is more than Tk 3,000 crore and the entire market is based on Chinese products, according to industry insiders.
The market is also observing about 50 percent annual growth in terms of value, said importers and leading brands.
Few years back the mobile accessories market comprised of chargers, power banks, headphones, USB cables, memory cards and phone covers.
But now there are wearable devices like smart watches, fitness trackers, wireless chargers and Bluetooth headphones and speakers, all of which can be connected to smartphones.
Other than wearables, importers are also bringing in internet of things-enabled devices.
"Now, it is easy to connect home appliances with smartphones through Bluetooth or over the internet," said Md Imrul Hasan, proprietor of Motion View, which imports devices of Chinese brands Xiaomi and UiiSii.
Currently, they are importing a wide variety of products and almost all are smart devices, including door security systems, water pots and air purifiers.
"According to our estimation the market size is not less than Tk 3,000 crore and its growing at 30 to 50 percent," Hasan told The Daily Star recently.
Huawei, another global leading smart device manufacturing brand, is also considering the Bangladesh market an important one and has already launched a number of premium accessories.
Currently, the main use of smart watches are for sports, health and communication, said Kelvin Yang, country director at Huawei Consumer Business Group (Bangladesh According to Huawei's observation).
Yang said they have put forward a seamless "artificial intelligence (AI) life strategy" that serves intelligent experiences.
"Alongside succeeding in smartphones Huawei is flourishing in smart accessories. Huawei delivers some innovative products for those tech lovers."
Huawei witnessed and participated in one of the world's fastest transformation from 2G, 3G and 4G networks in the country and is also getting ready for joining hands and evolving into the 5G era.
They are also planning to bring all-scenario ecosystem products in Bangladesh along with new models of Huawei smartphones very soon, Yang added.
Another global brand Samsung also entered Bangladesh last year with their wide variety of accessories targeting the growing market.
Apart from these brands a big chunk of the accessories market remains in the hands of small business entities, who are also importing products directly from China. Their business is also growing with a huge margin given the growing popularity of smartphones in Bangladesh.
Currently the market size of the mobile handset segment is about Tk 10,000 crore and growing exponentially, said industry insiders.
The global mobile phone accessories market is expected to reach $107.3 billion by 2022, according to alliedmarketresearch.com.
India's mobile accessories market is worth about $1 billion and is set to grow 20-25 percent year-on-year, according to a report of Hindustan Times.
Alongside popular accessories, some other items like selfie sticks, zoom lens, tripods, mobile ring stands and lens kits are also available in the Bangladesh market.
Industry insiders said after the launch of 4G service earlier last year the demand for smart accessories is also accelerating.
A few years ago, only a handful of wholesalers at the capital's Motalib Plaza used to meet the entire country's demand for mobile accessories, said Md Alamgir Hossain Akash, proprietor of Prince Telecom at the market.
Now, accessories importers have cropped up in other big cities like Chattogram, Sylhet, Rajshahi and even Narayanganj.
Every week, seven to eight containers of accessories are unloaded at Motalib Plaza, where there are hundreds of importers, Akash said, adding that mobile chargers and data cables were the highest selling items.
"Teenagers, especially girls, these days use their phone covers as a fashion accessory. Many change covers to match their outfits, so they own more than one cover for a single handset," he added.
Apart from the physical stores, many online shops are also playing a vital role in catering to the youth's needs.  Tax is a major barrier to the growth of the market, said Hasan, the Xiaomi and UiiSii importer.
Most of the smart accessories come with 60 percent tax, which is a big barrier to customers in making their lives smart, he said.
Facilitated by government initiatives, smartphones are currently being assembling in the country. "But it will be tough to move to smart accessories as it is the most sophisticated product in the whole channel," he added.