PHP to assemble Proton cars locally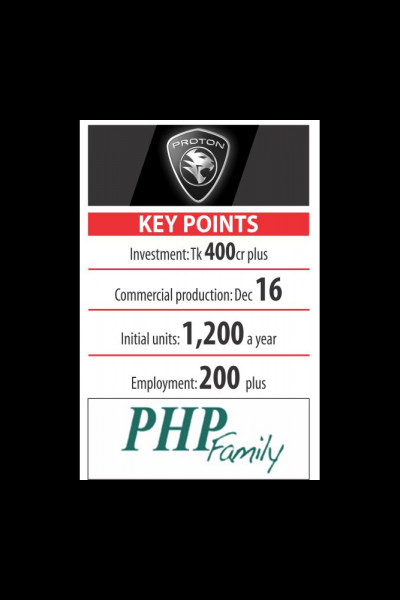 PHP, a Chittagong-based industrial giant, is set to assemble Malaysian Proton cars in Bangladesh, with plans to make parts and components as well in future.
Initially, 1,200 sedans will be assembled annually at its factory, currently being built on 30 acres of land in Chittagong's Anwara upazila for Tk 400 crore. Called the 'Proton PHP', the car will be commercially launched by the year-end.
The deal was signed on March 12 in the Malaysian city of Selangor.
Bangladesh is an emerging market for cars thanks to its burgeoning middle-class, which prompted the leading Malaysian car maker to build a plant in the country, Mohammed Mohsin Chowdhury, vice-chairman of PHP, told The Daily Star yesterday.
The 1,600cc Proton PHP will be priced similar to the Japanese reconditioned cars, he said.
This will be the second such initiative in Bangladesh after state-run Pragati Industries began assembling Mitsubishi's Pajero Sports (CR 45) in 2011. But those are high-end vehicles, beyond the purchasing capacity of the middleclass groups.
PHP's joint venture assembly plant will employ more than 200 people, including 50 automotive engineers.
"More employment will be created when we begin making parts and components such as tyres, wheels, dashboards, air-condition radiators etc," said the PHP vice chairman.
Akther Parvez Chowdhury, managing director of PHP Automobile, a unit of the same group, said they will use turbo engines for the cars under the Proton Privy series. This series will feature both manual and auto-run facilitates, he said.
Abdul Harith Abdullah, chief executive of Proton, and Mohammed Iqbal Hossain Chowdhury, director of PHP, signed the agreement on behalf of their companies.
Mahathir Mohamad, chairman of Proton and former Malaysian prime minister, and Sufi Mohammed Mizanur Rahman, chairman of the PHP family, were also present at the signing ceremony.
Around 15,000 cars are imported from Japan and some other countries through Chittagong port a year, according to shippers and Chittagong customs. Of the imports, 65-70 percent are reconditioned cars.