Project for developing workforce capabilities of graduates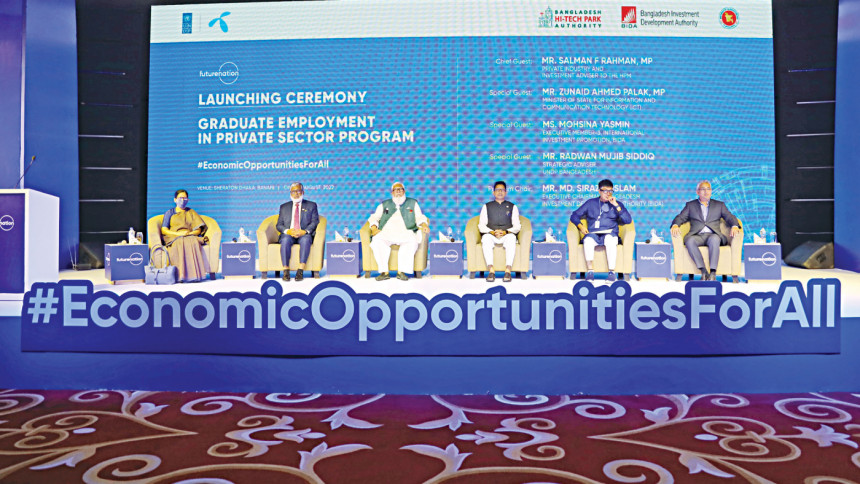 The pandemic has not only caused the economy to contract but also led to significant job and livelihood losses in various sectors.
Over the last couple of years, the South Asian economies, including that of Bangladesh, have seen a lot of jobless growth.
A survey by the Bangladesh Institute of Development Studies revealed that 66 per cent of students who graduated from National University-affiliated colleges are unemployed.
Against this backdrop, a programme was launched on Sunday to provide graduates foundational skills training, such as on digital and financial literacy, communication and business appreciation, to enable their employment in the private sector.
The programme has been jointly undertaken by Bangladesh Investment Development Authority (Bida), United Nations Development Programme (UNDP) and Grameenphone.
It is a part of a FutureNation initiative, a partnership among the public and private sectors and the UNDP, focusing on developing workforce capabilities and harnessing industry experts to draw investment.
These in turn are expected to strengthen the ecosystem for generating economic opportunities, helping to durably connect millions of young people to productive and dignified professional careers.
The programme will improve capabilities for higher paying local and global jobs and assess and install the right skills sets for the corporate sector and industries, said Sudipto Mukerjee, resident representative for Bangladesh at UNDP.
Homegrown aptitude assessment tools have been developed under the programme, he told the launching ceremony at Sheraton Dhaka.
"It will serve a diverse group of beneficiaries, including graduates, non-graduates, tertiary students, migrant workers and professionals, ensuring inclusivity and diversity in the spirit of the SDGs, which is leaving no one behind," said Mukerjee.
"In a nation gifted with the demography that young and energetic, we believe that it's a shared responsibility of the public and private sector together with the development partners to enable the young to live productive lives," he said.
Salman F Rahman, private industry and investment adviser to the prime minister, said unemployment was limited within graduates in Bangladesh.
"Because, if you look at the agriculture sector, it's very hard to find people at the time of harvesting. In our industries, the pharmaceutical sector and garments sector, the biggest problem we have (is a lack of) skilled manpower," he said.
And people with professional degrees, meaning doctors, engineers, architects, and chartered accountants, are not unemployed, he said.
"The people who attain a general graduation, they don't do career planning. Providing skills to this category of people is the most important aspect," said Rahman.
"Now we are talking about Smart Bangladesh, Fourth Industrial Revolution (4IR)…so we need to prepare our new generation for those challenges," he said.
"There are a lot of contacts taking place between academia and large business groups asking for requirements for designing their curriculum. I urge such work to continue," he added.
He said as there was an upsurge in the demand for freelancing, many have come forward with freelancing training courses, of which some are good while others just drawing money from people without providing any benefits.
"This needs to be regulated and all of this has to be brought under a certain regulatory environment and I think this is a role National Skills Development Authority can play for ensuring quality," said the adviser.
He said the prime minister in a recent meeting instructed to include coding in the primary education curriculum. It is very important since coding is nothing but a language and children can pick up languages much faster than adults, he said.
Zunaid Ahmed Palak, state minister for ICT, said the country's youths were now earning foreign currency from home as internet connections have already been made affordable and accessible.
"Bangladesh is uniquely positioned to potentially benefit from a demographic dividend. But to reap the benefits…stable employment opportunities and equipping the youth with digital competencies is pivotal," he said.
"We must collaborate to reduce the disparity between the urban and rural areas by transforming the country into a digitally connected society. FutureNation is an enabler of this co-creation," Palak added.
Radwan Mujib Siddiq, strategic advisor at the UNDP, in a video message shared his vision for FutureNation.
"As we all know, Bangladesh's economy has grown rapidly over the last decade or so. With opportunities have also come significant challenges. The nature of the workplace has changed, and the skills required have also changed. The transition from education to employment is not as simple and straightforward as it used to be,"
"As a result, FutureNation brought together the best minds from the private sector, academia, government, and the youth to come up with a way to combat this challenge. The aim of FutureNation is to look at best practices from around the world. Then, tailor the experiences from other countries to try and make this transition from education to employment a smooth one for Bangladeshi youth and graduates," he said.
Jørgen C Arentz Rostrup, head of Asia at Telenor, in his video message said creating opportunities for youths was fundamental for any nation and it was crucial for Bangladesh.
"Grameenphone has been creating employment opportunities for the last 25 years. At Telenor, we believe strong partnerships create a stronger impact," he said.
Yasir Azman, CEO at Grameenphone, said, "I see the great possibility to work with the young people of Bangladesh to prepare them for the future industry."
"The time is now! Our youth will be the biggest contributors to taking the journey of Bangladesh to become a developed nation by 2041," he said.
"Grameenphone is glad to have the opportunity to lead from the private sector and contribute to the development of youth workforce through FutureNation coalition with UNDP and Bida," he said.
A panel discussion styled "Graduate Employment Opportunities in Bangladesh" was held after the launching of the programme.
Zaved Akhtar, managing director of Unilever Bangladesh, shed light on how youths can be prepared for the current job market.
"Whenever we face interviews, a couple of things I believe our youth can significantly improvise or improve upon," he said.
"One of the things I believe is sense-making…To me, it is something that you have disparate data and you need to make sense of it," said Akhtar.
Now, there is a lot of conversation about data and the 4IR and this is what the next generation is facing, he added.
"I think there is an amazing skill, that the next generation of youths really need to adapt and I think that's a critical one that they need to actually bring out," he said.
"The second one is a bit around how you are able to manoeuvre your leadership style and we divide it into two things -- inner game and outer game," said Akhtar.
"Inner game is that you must have a sense of purpose on why are you doing whatever you are doing today. And that's a big driver for you," he said.
"Another one is your personal mastery and that makes you so unique. I am a marketer, I focus on that and that's what makes me unique. And each of us has that," he said.
"And the third one is agility in this inner game, because in today's world you need to really adopt and be flexible. And agility is not only about speed and pace, it is also about the flexibility of that," he added.
"And the outer game and this is a lot around on how do you build business acumen. Because that is an important element. You really need to understand your consumer and customer problem. And that's the starting point for you," said Akhtar.
He said an individual also has the responsibility of becoming a talented catalyst.
"Because you have a responsibility for the next generation. I think if you really balance the whole space around sense-making, around the inner and outer game, you can significantly enhance and change," he said.
"And a big enabler of that is the system thinking, system one or system two thinking. System one is your spontaneous thinking and the other is an analytical reaction. And how you really balance based on circumstances," said Akhtar.
"And I believe that could significantly aid us to step up and be ready for the next generation and next generation problem," he added.
Anir Chowdhury, policy advisor of the a2i Programme of the ICT Division, said employers need to know where employable youths were as two-thirds of jobs that would exist in 2030 or 2031 have not even been invented.
He said the movement from macro skills to micro skills was the most important transition happening in Bangladesh.
"And FutureNation is looking at micro skills because the focus is now on learning to learn micro-sized as we don't have the patience to go beyond a few minutes," he said.
"In terms of policy perspective, we need to actually set our target on a few institutions which generate unemployment the most in the country," he said.
National University, which produces 70 per cent of the country's graduates with 2,200 colleges, is one of them as it generates up to 50 per cent to 60 per cent of the unemployment, said Chowdhury.
"And I think that's the target we just set from a policymaking standpoint. And I think FutureNation will have to set a target there," he added.
"There is also one target we need to take, which is creating soft skills that create graduate employment in middle management," he said.
"We have a lot of employers who are not finding the right middle managers in the country," said Chowdhury.
"So, universities are creating graduates who are not employable by the industry because they don't have the right management or soft skills and I think this is another area we can focus on the policy level," he added.
It is important to create graduates in a way such that when they come out, they are actually in a way already attuned to what business requires of them, said Haakon Bruaset Kjoel, head of external relations for Asia at Telenor.
"So as a part of private sector members, we see that predominantly in Europe and US market, where you bring part of the business into the classroom," he said.
"It starts when you enter university, where research projects are the number one important part of the curriculum. It actually allows students to deal with the real problems taking place," he added.
Bikarna Kumar Ghosh, managing director at Bangladesh High-tech Park Authority; Russell T Ahmed, president of the Bangladesh Association of Software and Information Services, Rashedur Rahman, executive director at ICE Center at the University of Dhaka, and Nazneen Ahmed, a country economist at UNDP Bangladesh, also spoke. 
Senjuti Saha, scientist at Child Health Research Foundation and a board member of the Polio Transition Independent Monitoring Board of the World Health Organisation, moderated the panel discussion.