Pacific Jeans to set up solar plants in all units by 2025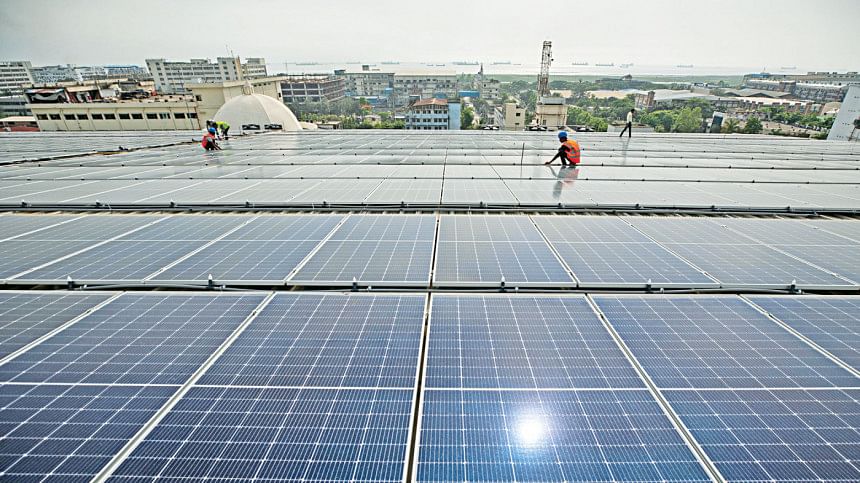 The Chattogram based Pacific Jeans Group is planning to set up rooftop solar power plants in all 10 of its manufacturing units by 2025 in a bid to get at least 20 per cent of the group's energy requirement from renewable sources.
The group is going to invest $10 million to complete the project.
As a part of its plan, the leading denim exporter has set up a 708-kilowatt (KW) capacity solar power plant on the roof of Universal Jeans Ltd, which is one of its concerns located inside the Chattogram Export Processing Zone (CEPZ), in April this year.
Abul Kalam Mohammad Ziaur Rahman, executive chairman of the Bangladesh Export Processing Zones Authority (BEPZA), inaugurated the plant as chief guest though a ceremony yesterday.
The solar plant having a total of 1,299 pieces of photovoltaic modules of solar panels was set up at a cost of $5 lakh on more than 49,000 square feet.
Syed M Tanvir, managing director of Pacific Jeans, said the new plant would be able to generate around 3.5 megawatts (MW) of green energy every day, which is around 10 per cent of the unit's total energy consumption.
In 2017, the group on an experimental basis installed a 70KW solar plant on the roof of another concern, NHT Fashions Ltd, at a cost of $7,6923.
Till April this year, total power generation in the plant stood at 446MW, which was 4 per cent of the total power required by the unit.
The total amount of carbon offset since installation of the first solar plant stands at 638 tonnes.
"Being a responsible manufacturer, we took a number of projects keeping in mind environmental sustainability and the global carbon emission reduction target," Tanvir said.
"All our international clients, including Marks & Spencer, UNIQLO, H&M and American Eagle have their own environmental sustainability goal and CO2 emissions target. And being their manufacturer, we are also aligned with those targets. If we do not reduce carbon emissions, they would not be able to reach those targets," he added.
Tanvir went on to say that keeping this and the Sustainable Development Goals in mind, Pacific Jeans has set a target to reduce its carbon emissions by 65 per cent within 2030.
As a part of its roadmap, the group started implementing different projects like setting up a water recycling plant, rainwater harvesting facility and modern washing plant to reduce water consumption as well as a waste recycling plant.
The group's solar power project would also contribute immensely to the government's energy saving plan in the context of the current global energy crisis, he opined.  
Tanvir then said they are working to install another 1060KW capacity rooftop solar power plant in another factory in the CEPZ named Pacific Jeans Ltd by September this year.
Tanvir said once the overall project is completed in 2025, they have a target to generate renewable energy of 32.70MW per day, which would be 15 to 20 per cent of their total daily consumption.
"And with these plants the group would be able to save CO2 emissions of 6,458 tonnes per year," he said.
"We will gradually develop these plants as we have a target to generate 50 per cent of our required energy from natural sources," Tanvir added.