Norfund vows to work with City to help SMEs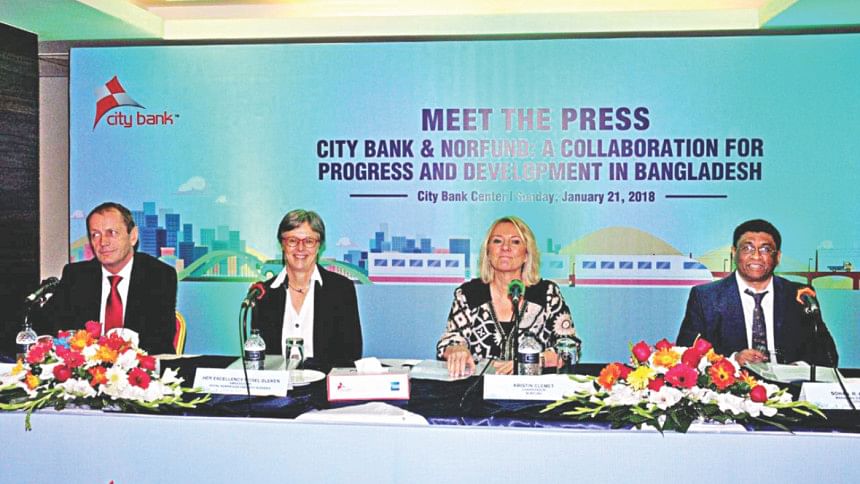 Norfund, the Norwegian government's investment fund for developing countries, yesterday expressed its intent to collaborate with City Bank to help Bangladesh's small and medium enterprises get access to funds.
The disclosure comes as Norfund last month signed a $10 million loan agreement with City Bank to support the local lender's trade and project financing requirements for its clients.
A high level delegation led by its Chairperson Kristin Clemet, also a former education, research and labour minister of Norway, recently visited the local bank's headquarters in Dhaka and gained knowledge on the macroeconomic environment of Bangladesh. Established in 1997 by the Norwegian parliament with the view to helping developing countries fight poverty, Norfund's committed portfolio at the end of 2016 stood at $1.95 billion and included more than 770 companies.
Norfund invests in three sectors: clean energy, financial institutions and food and agribusiness.
It also invests in private equity and venture capital funds that target SMEs in need of early phase capital. When Norfund exits investments, it reinvests the funds in other businesses.
Norfund is a member of the Association of European Development Finance Institutions together with the 14 other bilateral development financial institutions in Europe.
Kjell Roland, chief executive officer of Norfund, and Sohail RK Hussain, managing director of City Bank, spoke at the press briefing after the meeting. Sidsel Bleken, Norwegian Ambassador in Bangladesh, was present.