Yellow tea produced for first time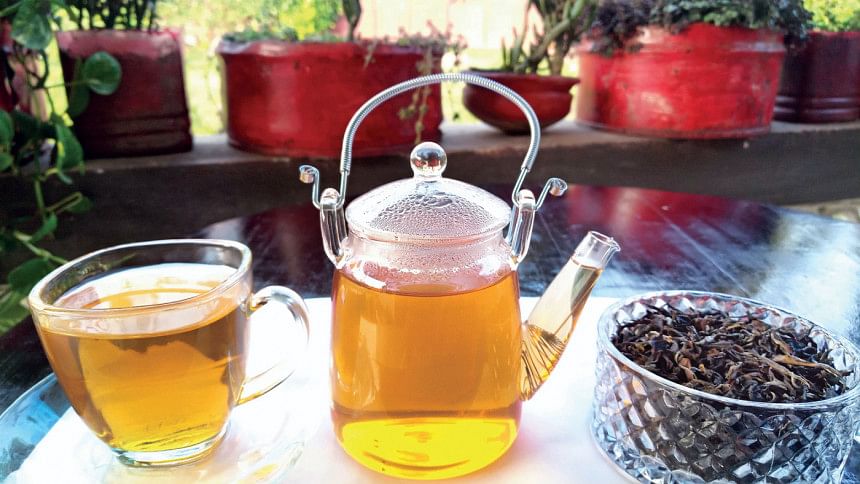 After black, green and white tea, growers in Bangladesh have developed highly valued yellow tea, a development that will take the country to another step forward in saving foreign currencies spent on importing expensive varieties of the beverage.
Even the country can earn more by exporting higher-priced teas thanks to price competitiveness.
Brindaban Tea Garden in Habiganj has produced yellow tea for the first time in Bangladesh, said Nasir Uddin Khan, manager of the garden.
"Earlier, we started to produce yellow tea experimentally. Now, we are producing it commercially," he said.
Mahmud Hasan Prince, a scientific officer of Mirzapur Tea Garden, said such tea had never been produced in the country. "Brindaban Tea Garden has made history."
The development of yellow tea will drive innovation and other tea gardens will follow suit, he said.
Native to China, yellow tea, which has slowly gained popularity across the world, is a little different in taste, as it offers a fruity and distinct after taste, smooth texture and a pleasing aroma, according to an article in the Times of India.
The bright yellow colour is not natural and is attained through a process called "sealed yellowing". Under the process, the tea polyphenols are first oxidised to attain the yellow tinge and then further treated to preserve the colour and aroma of the dried leaves, it said.
Yellow tea was auctioned in Chattogram on March 15. The authorities put up for auction six kilogrammes of yellow tea, with each kg fetching Tk 8,300. Popular Tea House in Sreemangal bought the tea.
Another auction took place at the Sreemangal Auction Centre on March 18. The auction was offered by Sreemangal Brokers Ltd, and each kg was sold for Tk 12,200.
Jahar Tarafder, member secretary of the Tea Planters and Traders Association of Bangladesh, said: "Yellow tea was auctioned at the highest price in the history of tea in Bangladesh."
Established in 1920, the area of Brindaban Tea Garden is about 1,183.37 acres. About a thousand workers are employed there.
Khan said after successfully producing white tea, yellow tea had now been produced.
"There is a great demand for yellow tea at home and abroad. If this type of tea is produced commercially, it will be possible to earn a lot of foreign exchange," he said. No unique tree has to be planted to produce white or yellow tea. They can be produced from the same plant through special processing, he said.
Yellow tea commands several times higher prices compared to regular teas in many countries.
In India, yellow tea is sold for 75,000 rupees per kg. There is a huge demand for the tea in European countries, according to Khan.
Brindaban Tea Garden has targeted to produce 500 kg of yellow tea this year.
Tarafder said imported white tea cost Tk 7,000 per kg while it was available at Tk 4,500 locally.
There are about 32 lakh people in Bangladesh who drink imported white, green, yellow and black tea.
"If we can offer these teas to this group of customers at half the price, they will not buy them from other countries. Therefore, if we want to capture the tea market at home and abroad, we must give importance to diversification," Tarafder said.
"Then the import will go down. And due to lower prices, there is the possibility that exports will go up."
Some 86.39 million kg of tea were produced in Bangladesh in 2020, down 10.01 per cent year-on-year, because of adverse weather. Annual consumption stood at 84 million kg.