Yarn exports hold potential
Receipts from yarn, fabrics rise 20pc in July-May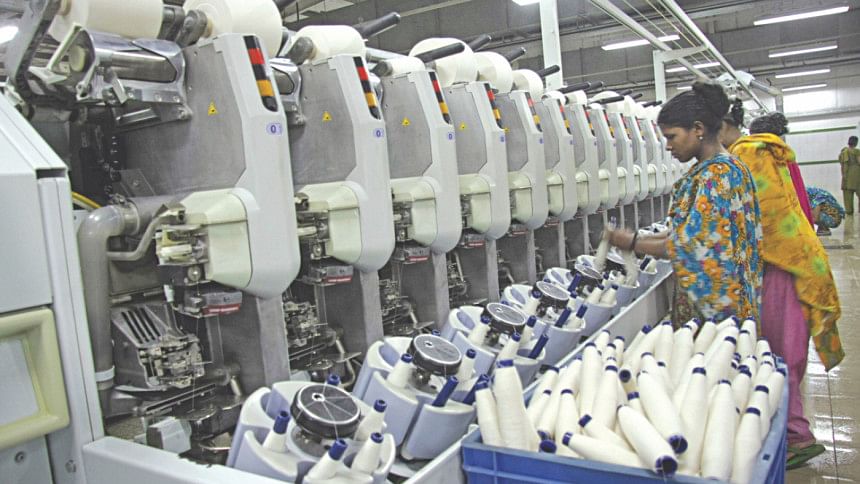 Yarn and fabrics export rose 20.46 percent year-on-year to $141.12 million between July and May, an indication that Bangladesh can become a major source for the raw materials if higher production is facilitated.
Currently, local spinners are able to meet 85 percent of the demand for the raw materials for the knitwear sector and 40 percent for the woven sector. 
Bangladesh imports yarn from China and India to meet the local demand. However, the export of yarn, especially cotton yarn, has grown recently.
At least six large spinning mills have started exporting specialised cotton yarn, which is very fine, to Indonesia, Sri Lanka and Turkey, said Monsoor Ahmed, secretary to Bangladesh Textile Mills Association, a platform for spinners, weavers and cotton millers.
"Bangladesh has a lot of potential to export yarn and fabrics to some other countries," said MA Jabbar, managing director of DBL Group, a leading spinner and garment exporter. 
His company has been exporting yarn and fabrics to Sri Lanka for the last couple years.  Foreign companies are coming to Bangladesh to buy yarn because the country is very strong in production of cotton yarn and many other countries have started manufacturing mixed yarn. In case of the mixed yarn, millers use other ingredients with cotton. 
Ahmed said Turkey is strong in manufacturing knitwear with finer yarn and has become a good destination for the Bangladeshi item. 
However, Bangladesh faces higher duty on the export of apparel and apparel-related raw materials to Turkey as the two have not yet signed any free trade agreement or preferential trade deal, exporters said. 
Bangladesh also faces higher duty on yarn export to other potential countries.
Jabbar said although there is a lot of demand for yarn and fabrics abroad, the local consumption is also growing to feed rising garment exports.
If local spinners and weavers produce more yarn and fabrics, Bangladesh will have more export potential, he said.
The entrepreneur said the yarn price in Bangladesh is less than in India. "So, Bangladesh can be a good source for other countries for yarn and fabrics."
According to Jabbar, apart from Sri Lanka, Indonesia and Turkey, emerging garment producing countries such as Ethiopia, Myanmar and Cambodia could be good export destinations for the Bangladeshi yarn and fabrics producers.
For the higher production of yarn and fabrics, the local industry needs more investment in the primary textile sector, industry insiders say. Nearly $8 billion has been invested in the primary textile sector. 
There are 450 spinning mills and nearly 1,300 small and medium weaving mills in Bangladesh.