Wholesale rice prices fall, retail unchanged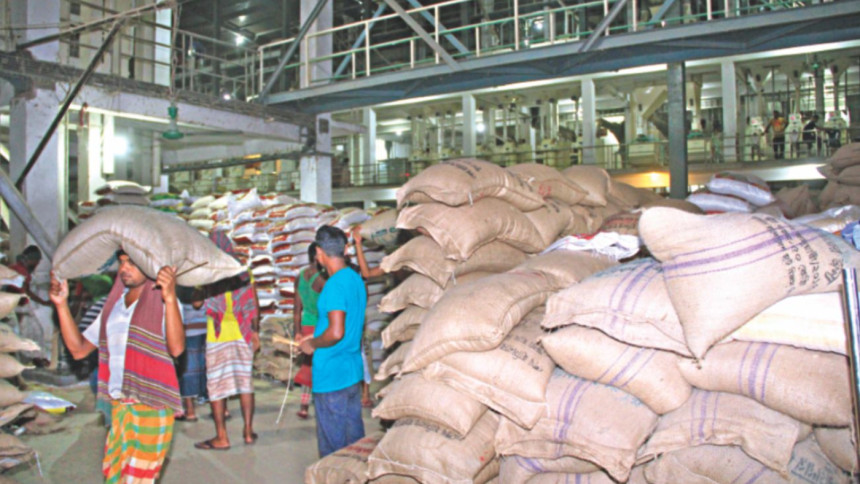 Prices of rice fell at the wholesale level in the capital after millers slashed their prices, wholesalers and retailers said yesterday.
However, prices remained unchanged at retails.
"We see a downward trend in the mill gate prices and its impact is seen here now," said Abdul Matin, a rice trader at Mohammadpur Krishi Market, one of the biggest wholesale markets of rice in Dhaka city.
Overall, prices of per 50-kilogramme sack dropped by Tk 50, he said.
The Department of Agricultural Marketing (DAM) data showed that the prices of fine rice dropped by 6 percent to Tk 4,600-Tk 5,300 per quintal yesterday from Tk 4,700-Tk 5,800 on January 13 in the city markets.
Prices of medium-grain declined by 4 percent to Tk 3,500-Tk 3,800 per quintal from Tk 3,600-Tk 4,000 on January 13.
Coarse grain prices fell by 8 percent to Tk 3,000-Tk 3,200 each quintal yesterday from Tk 3,300-Tk 3,400 in the city markets three days ago, according to the DAM data.
Matin said retailers were still selling the staple at higher prices. "We saw an increased number of buyers when prices were rising.
"Now, turnout of buyers and retailers is low as prices have fallen," he said. Md Nizam Uddin, general secretary of Badamtali-Babubazar Wholesale Rice Traders Association, the oldest rice wholesale market, said prices dropped between Tk 1-2 per kilogramme depending on grain types.
"Prices would not rise as there is an adequate stock of the cereal," he said.
Millers and traders hiked the prices of rice by up to Tk 200 per 50-kilogramme bag regardless of quality after the polls on the excuse of supply disruption for transportation problem for a couple of days just ahead of the election on December 30.
And in the face of increasing prices, the food ministry sat down with the millers and traders to know the reasons of the price spiral although there had been good production in the last three seasons and public warehouses still have a stock of 11.79 lakh tonnes.
Mostafa Kamal, manager of a rice store at Gopibag, Dhaka, said prices dropped after one of the biggest rice millers, Rashid Agro and Food, cut its quotation by Tk 50 per 50-kilogramme bag.
Syed Monirul Islam Montu, general secretary of Rice Wholesalers Association at Mohammadpur Krishi Market, said overall prices of rice neither dropped nor increased.
Contacted, Tareq Anam, national sales manager of Rashid Agro, said buyers would be able to buy its 50-kilogramme bag of miniket rice (fine grain) within Tk 52 per kilogramme from wholesale markets.
He said prices rose earlier because of a spiral in prices of paddy. "We have reduced prices recently as prices of paddy declined."
Tareq urged the government to monitor the prices at the retail level to reduce the gap between wholesale and retail prices.
Chitta Majumder, managing director of the Majumder Group of Industries, which has rice mills, said prices of coarse paddy (swarna variety) declined to Tk 710 per maund (40 kilogrammes) in the last couple of days.