Unique Meghnaghat to build 584MW plant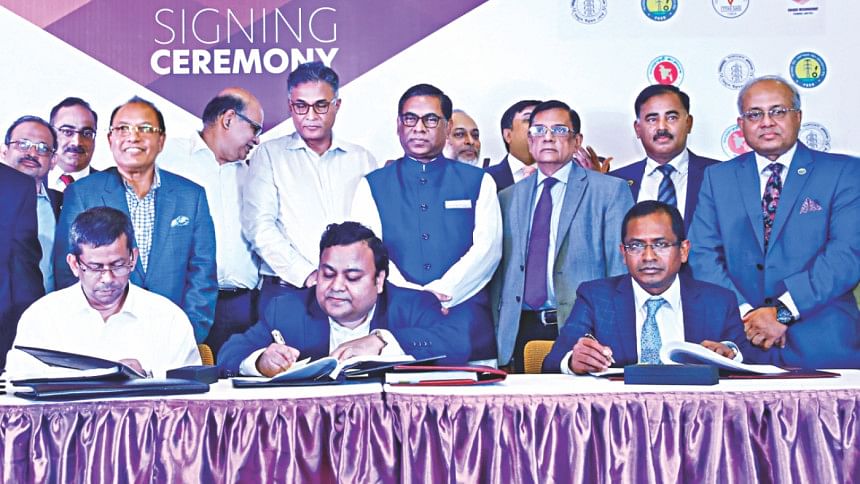 Bangladesh's largest ever combined cycle power plant of 584 megawatts (MW) fuelled by natural gas is set to be established by Unique Meghnaghat Power at Meghnaghat, Sonargaon in Narayanganj district.
Unique, a subsidiary of the Unique Hotel and Resorts, yesterday signed an array of agreements with Bangladesh Power Development Board (BPDB), the Power Grid Company of Bangladesh, and Titas Gas Transmission and Distribution Company Limited to set up the largest independent power producer (IPP) project.
With the BPDB, a 22-year power purchase agreement (PPA) was signed while implementation and gas supply agreements were inked with the government and Titas respectively.
Saiful Islam Azad, secretary of the BPDB, Chowdhury Nafeez Sarafat, managing director of Unique, Sheikh Faezul Amin, joint secretary to the power division, and Mahmudur Rahman Rab, secretary of Titas, signed the agreements.
Addressing the programme at Bidyut Bhaban, Nasrul Hamid Bipu, state minister for power, energy and mineral resources, said the temporary liquid fuel-fired power plants would gradually be phased out.
"Implementation of all big power plants will be completed within the next four to five years while undisrupted power supply will be ensured during upcoming Eid-ul-Azha," he said.
Mosharraf Hossain Bhuiyan, chairman of the National Board of Revenue, said they would gradually reduce the 15-year tax holidays enjoyed by power plants as revenue collection had to be increased in line with the rise in size of the national budget.
The Unique power plant will be built on 18.75 acres of land at an overall estimated cost of $520 million. It is expected to start operations by July 2022, generating electricity that could power 700,000 homes.
GE Power will be supplying one 9HA gas turbine along with one heat recovery steam generator, one steam turbine generator and condenser. The company says the HA technology was powering the most efficient gas power plants in the world. 
Chaired by the BPDB Chairman Khaled Mahmood, the event was addressed by Abul Kalam Azad, principal coordinator (SDG affairs), Prime Minister's Office; Ahmad Kaikaus, senior secretary to the power division; Earl R Miller, US ambassador to Bangladesh; and Deepesh Nanda, CEO, gas power systems, GE South Asia.
Noor Ali, the Unique chairman, Abu Hena Mohammad Rahmatul Muneem, secretary to the energy and mineral resources division, and Ruhul Amin, Petrobangla chairman, also spoke.