UK retailer Debenhams' terminated workers demand arrears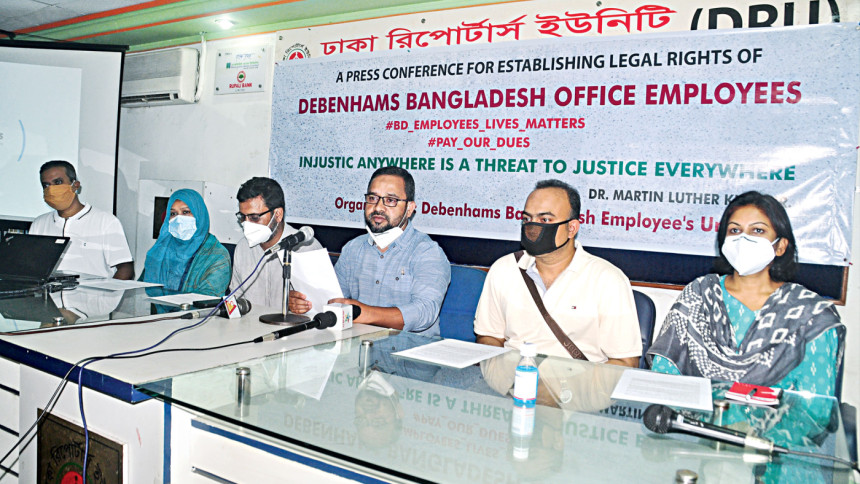 The recently terminated employees of Debenhams' Bangladesh office yesterday demanded full payment of the wages and other monetary benefits owed to them by the London-based multinational retailer as per Bangladesh's labour laws.
"By our calculations, Debenhams owes $1 million in salaries, allowance and other service benefits," said Bahauddin Mohammed Ataullah, president of the Debenhams Bangladesh Employees Association.
He spoke during a press conference at the Dhaka Reporters Unity in the capital's Segun Bagicha.
Citing financial constraints, Debenhams appointed an administrator for its Bangladesh office and eventually terminated 69 staff members in April earlier this year.
Soon after the ongoing coronavirus crisis was elevated to pandemic status, retailers and brands worldwide closed down their operations amid significantly decreased demand for non-essential items.
As such, Ataullah, who was among the terminated workers, said he and his colleagues stopped receiving shipments of goods from many local manufacturers in the name of compliance with the company's directives.
However, Debenhams itself did not comply with the country's regulations when it terminated those Bangladeshi workers.
"Even if you pay me three times my previous salary to return to Debenhams, I won't do it as the company is non-compliant with our rules and seems to think that Bangladesh is still a British colony," he said after the press conference.
Ataullah also urged consumers of the company's products to raise their voice against such misconduct so that it is compelled to correct itself.
Debenhams does not respect the law of the land and continues to operate while flouting Bangladesh's rules, he added.
The government imposes strict measures and subsequently receives millions in compensation if any local company is found to be non-complaint.
Debenhams makes a tremendous profit from the sales of Bangladeshi garment items, however, the suppliers are paid very little in comparison, Ataullah said.
Besides, many of the company's previous employees are finding it difficult to maintain their livelihoods amid the ongoing pandemic due to a lack of income and other benefits, he said.
"But still, Debenhams paid no heed to the suffering."
Since Bangladesh is an independent nation, Debenhams must follow the laws as outlined by the Bangladesh Investment Development Authority (BIDA), which was known as the Board of Investment back in 2013, when Debenhams first registered its operations in the country.
The London-based multinational retailer has been irregular in making payments to its suppliers. In April earlier this year, the company demanded a 90 per cent decrease in prices due to the Covid-19 fallout, meaning that Debenhams offered $1 to buy T-shirts that originally cost $10.
"They terminated us illegally. Three months' prior notice is needed before closing an office, which was not given in this case. All dues of suppliers and employees need to be cleared," Akhteruddin Ahmed Asad, the preceding country manager for Debenhams, told The Daily Star over phone.
It should be mentioned that Asad was not present at the press conference but opted to speak with the media after his attention was drawn to learn about how Debenhams operates in Bangladesh.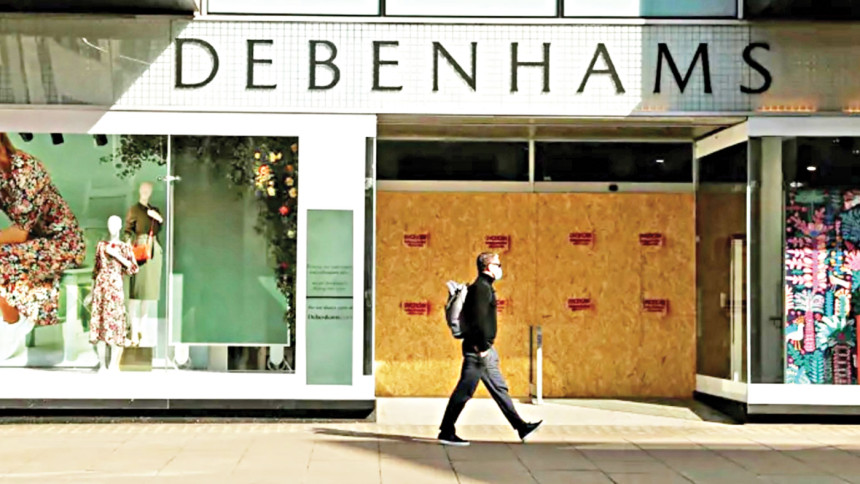 "We will go to the court. Debenhams does not have the reputation and should maintain compliance," he said, adding that the termination of workers during the two-month nationwide general holiday aimed at curbing the spread of Covid-19 was illegal.
Local suppliers call Asad each day to enquire about their due payments even though he is no longer a part of the company.
Currently, Debenhams runs its operations in Bangladesh through a third-party agent.
Since the company continues to take shipments, albeit on a more limited scale, it proves that they continue to operate and have sufficient capital in the bank.
"And so, we want justice and what's due from Debenhams," Asad said.
The former country manager also said around Tk 90 lakh was spent on monthly salary disbursements for employees of Debenhams Bangladesh office and it pressured its suppliers to comply with their demands using legal means.
"Now though, they are not paying us as per the law. They maintain a double standard in doing business," he added.
As a result, many local suppliers are facing numerous difficulties because of Debenhams' non-compliant attitude.
Debenhams Bangladesh's operations were conducted under its Hong Kong liaison office in an effort to evade taxes, according to Asad.
"The company wouldn't consider doing such illegal acts at any of its other international locations but it does so in Bangladesh as it still takes the country to be a British colony," he added.
The international brand used to spend more than $120 million annually to purchase various goods from Bangladesh, particularly high-end garment items, said Zahangir Alam, the coordinator of Debenhams Vendors Community in Bangladesh.
Currently, Debenhams owes a staggering $66 million to its vendors in the country.
"The company is probably still purchasing goods from Bangladesh and so, the old staff members should not be deprived. I suggest that if it continues to conduct business here, it should re-employ the previously terminated workers on ethical grounds," said Alam, also the managing director of Design Source, an interior design firm.
"Being a major supplier, I settled a handsome quantity of goods at 25 per cent discount with the company as goods were waiting in ports to be unloaded," Alam told The Daily Star by phone.
Debenhams owed him $18 lakh, which now stands at $14 lakh, Alam said, adding that the company recently rescheduled its deadline to settle arrears with its Bangladeshi suppliers to September 15.
Debenhams did not respond to The Daily Star's queries for a comment on the matter.
Mozammel Huq, managing director of Liberty Fashions, said his compliant factory was shut down without any prior notice on May 2013 by another British retailer, Tesco. 
"I lost everything due to the unethical and non-compliant approach of Tesco. I am in a big trouble now due to shut down of my factory.
"I have been passing my days in a grief. It is an independent and sovereign country but Tesco did not follow the rules," Huq said.
"Tesco hanged me without a trial. Before my factory was shut down, I used to export garment items worth Tk 350 crore in a year, employing 5,000 workers. I started my business in 1983 with 500 people," he continued.
"My factory was fully compliant and I had a dream to employ 10,000 workers and I wanted to export Tk 1,000 crore worth of garments per year," said Mozammel, who has been fighting for justice in this regard for over the past seven years.
"I want constitutional rights. I cannot hold my tears anymore. Tesco has taken away everything from my life," he added.
Nazma Akter, president of the Sammilito Garment Sramik Federation, said such incidents should not be allowed to occur in this industry and the international buyers should follow the country's rules.
"Terminating employees and shutting down factories are illegal and inhuman. We request the buyers not to terminate any employees illegally."