Bangladesh vs Pakistan: A tale of two economies
The infamous quote 'Bangladesh is a bottomless basket' made by then US Secretary of State Henry Kissinger in 1974 has already been proved wrong.
In 1971, when Bangladesh achieved independence from Pakistan through a nine-month-long bloody battle that cost the lives of three million people, many doubted the survival of the new country. 
But those concerns have dissipated long ago. In five years' time, Bangladesh is tipped to be a middle-income country.
Bangladesh's per capita income is estimated to be $1,909 at the end of the fiscal year, up from $120 in 1972.
Pakistan's per capita income stands at around $1,700 now from $180 in 1971.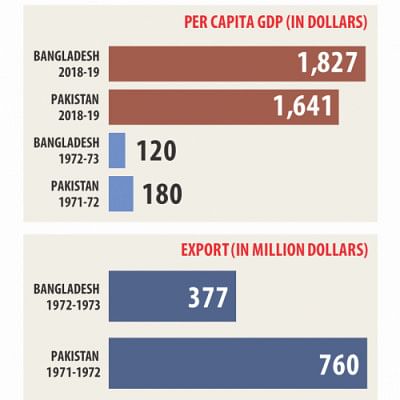 Bangladesh is likely to be the biggest mover in the global GDP rankings in 2030, becoming the 26th largest economy in the world from 42nd last year, according to the latest HSBC Global Research report.
The report -- The World in 2030: Our long-term projections for 75 countries -- showed Bangladesh's economy would jump 16 notches, the highest by any country between 2018 and 2030. Bangladesh is now the world's second largest apparel exporter after mighty China, and its entrepreneurs have achieved that with imported machineries and raw materials.
The country exported $36.6 billion worth of goods in fiscal 2017-18, in contrast to Pakistan's just $23 billion.
Bangladesh's foreign exchange reserves is now more than double of Pakistan's less than $15 billion, and the latter's trade deficit is almost four times that of Bangladesh.
Pakistan's currency Rupee is now trading well below the value of Bangladesh's Taka: Tk 84 fetches one US dollar, whereas it costs more than Rs 140 in Pakistan.
Also, Bangladesh has made considerable progress in social sectors such as poverty reduction, health, family planning, female education, women's empowerment and child mortality reduction despite some challenges like governance crisis, corruption and political instability.
For example, the average life expectancy at birth has risen to 73 years in 2018 from less than 40 in 1971. The child mortality rate fell gradually from 224.6 deaths per 1,000 live births in 1968 to 32.4 deaths per 1,000 live births in 2017. The literacy rate has more than doubled since 1970.
So, its independence 48 years ago was for the better. This is the beauty of freedom.