Sudden 'lockdown' to affect operations management, industrialists say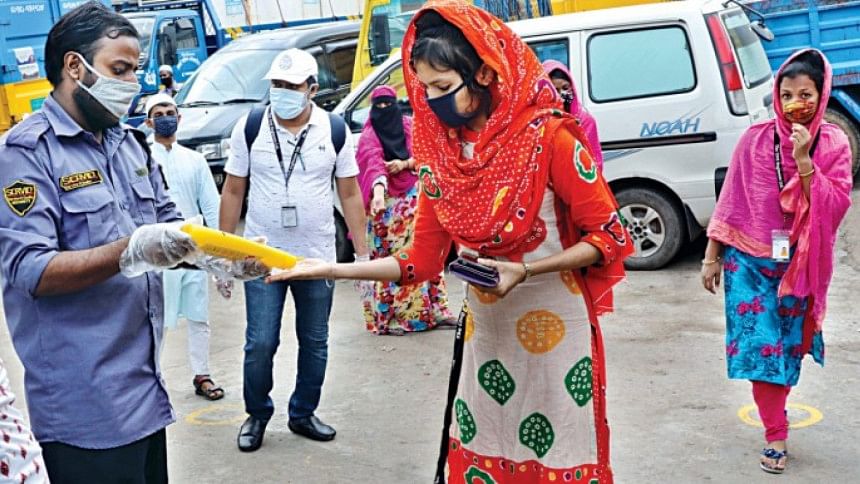 Industrialists have found it difficult to instantly implement emergency measures for the smooth continuation of manufacturing operations after the government suddenly announced a nationwide lockdown to curb the spread of Covid-19.
Corporate offices will be run online while a physical presence will be available on an emergency basis during the seven-day lockdown beginning today.
But despite their difficulties, industrialists agree with the government's decision, believing that it would not have too much of an impact on the economy.
"The sudden lockdown led to slight difficulties but there is no alternative to tame the ongoing situation," said Mostafa Kamal, chairman and managing director of Meghna Group of Industries (MGI), a leading conglomerate in Bangladesh.
In most cases, employees will work from home but in case of emergency, they may be required to attend office on a limited scale, he added.
There are 48 manufacturing units operating under MGI, which employs around 35,000 people.
The conglomerate's product base ranges from food items such as edible oil to construction materials such as cement.
The MGI chairman went on to say that some foreign experts working at the Meghna industrial zone have been infected by Covid-19. However, MGI has taken responsibility for their treatment.
"We will run our production units with additional safety measures so that our economy is not hampered, just like the other countries that will continue their economic activities," Kamal said.
Kutub Uddin Ahmed, chairman of Envoy Group, a leading garment exporter, said factories have been instructed to remain operational during the lockdown.
"We have already taken measures to treat workers in case of infection. So we do not have any problem with running the factories during the lockdown," Ahmed told The Daily Star.
It is not possible for factory owners to construct hospital facilities overnight but they have already taken the appropriate measures in this regard, according to Rubana Huq, president of the Bangladesh Garment Manufacturers and Exporters Association (BGMEA).
Besides, almost all garment factories have established isolation centres for their workers in the factory premises.
Regarding transportation, Huq said that restriction on public transport will not have a big impact as most workers live near their factories.
Still though, some factories arranged transportation for their workers during the initial outbreak last year and this facility is still continuing now, she added.
Mohammad Hatem, vice-president of the Bangladesh Knitwear Manufacturers and Exporters Association (BKMEA), said if the lockdown is prolonged, the construction of a big hospital is needed.
Hatem also said he has already sat with the relevant parties to build a hospital similar to the one Bashundhara built a few months ago.
Mohammed Amirul Haque, managing director of Premier Cement, said industrialists are struggling to run their manufacturing units in line with government directives under such short notice.
"It is quite tough to manage health safety measures, temporary residences at the industry campus, medical facilities and ensure food for the workers in such a short time," he added.
According to the managing director, it takes at least one week to prepare a well-managed atmosphere inside the factories to fight Covid-19.
"We fell into a ghastly situation to manage everything, including advance preparation for opening letters of the credit," Haque said.
Similarly, Hafizur Rahman Khan, chairman of Runner Group, said safeguarding lives takes priority over doing business.
"First I will have to save my employees to run the business. For this reason, even before the lockdown was announced, we issued a rule to avoid coming to the office unless it's an emergency," Khan said.
Runner, the pioneer of motorcycle maker in Bangladesh, has over 4,000 employees for its manufacturing units, servicing centres and corporate office.
The industries and economy as a whole will be able to tackle the effects of the week-long lockdown, he added.
Monjurul Alam, director of global operations at Beacon Pharmaceuticals, said as an emergency sector business, they will not close down their factory.
Beacon Pharmaceuticals has taken measures to provide emergency services for employees.
Besides, the corporate office will remain open with limited manpower by introducing staggered shifts while employees aged over 50 and pregnant women will only work from home during the lockdown.
The company has over 1,300 employees, including those at its corporate office and sales centres, Alam added.
Tapan Sengupta, deputy managing director of BSRM, the leading steel manufacturer in Bangladesh, said they will run factory operations amid the pandemic by taking all kinds of safety measures to avoid infection.
BSRM has over 4,000 direct employees and the company has its own dormitory at their major manufacturing unit in Mirsarai, Chattogram, where workers will stay during the lockdown.