Stocks cross 5,500 points again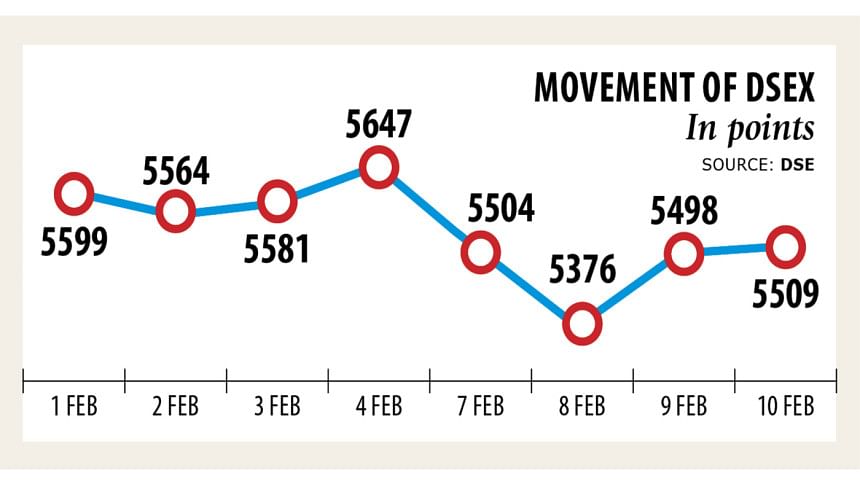 Dhaka stocks crossed 5,500 points yesterday thanks to a rising trend among large cap companies amidst a drop by most stocks.
The DSEX, the Dhaka Stock Exchange's (DSE) benchmark index, rose 10 points, or 0.19 per cent, to 5,509.
Stocks of 26 per cent of companies, or 95 firms in other words, rose while 41 per cent, or 148 companies' stocks, fell, showed the premier bourse's data.
The index rose mainly due to the same old stocks that were undergoing a rising trend in the last few months, said a stock broker. The companies are Beximco, Beximco Pharmaceuticals, Robi Axiata and LankaBangla Finance.
The companies now lead the market and investors are also honing in to the stocks, he said.
As all the companies have large sums of capital, their movements impact the index by a huge extent, so the market has been moving in tune with the stocks, pointed out the stock broker.
The index is at a level where it is finding an average level to hover around, so small falls and rises are now not a big deal, said a merchant banker.
The alarming thing is that many stocks with low performance records are ending up in the gainers' list, he said, adding that such movements could only be a result of gambling activities.
Golden Son, Shyampur Sugar Mills, C&A Textiles and Dacca Dyeing are coming up in the top gainers' list although they are companies with poor performance records, he said
Investors should be cautious about their investments and they need to put their money into stocks with good performance records, said the merchant banker.
Investors should also invest for long periods, he added.
The Taufika Foods and Agro Industries, a debutant, topped the gainers' list rising 50 per cent followed by Golden Son, Shinepukur Ceramics, Shyampur Sugar Mills and Beximco.
On its first day of trade, the Taufika saw only 17,908 of its shares being traded although there were a huge number of buyers.
Beximco topped the turnover list with Tk 162 crore, followed by Robi Axiata, British American Tobacco Bangladesh, Beximco Pharmaceuticals and LankaBangla Finance.
Prime Finance First Mutual Fund shed the most falling 5 per cent followed by Eastern Insurance Company, Bangladesh Lamps, GSP Finance Company and Alltex Industries.
At the DSE, 240 securities gained price, 17 declined, and 92 remained unchanged.
The port city bourse also rose yesterday. The CASPI, the general index of the Chattogram Stock Exchange, rose 59.37 points, or 0.37 per cent, to 15,979.
Among 234 companies to witness trade, 72 advanced, 105 fell and 57 remained the same.