Sheba launches sManager for Bangladesh MSMEs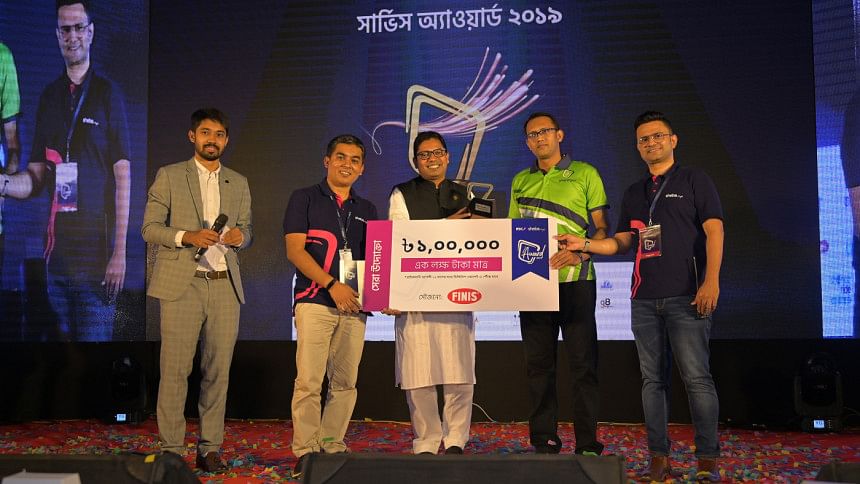 Sheba Platform Limited Introduced "sManager- a Revolutionary Innovation" for the micro, small and medium enterprises sector (MSMEs) in Bangladesh.
The platform was launched by Honorable State Minister, ICT Division, Zunaid Ahmed Palak, MP during the IPDC-Sheba.xyz Service Award 2019 on Saturday, according to a press release issued in this regard.
The revolutionary platform for the MSMEs will speed up MSMEs' everyday business.
The event was held in Institution of Diploma Engineers, Bangladesh (IDEB), Kakrail, Dhaka. IPDC Finance Limited was the title sponsor for the ceremony, in association with The Daily Star. Co-sponsors included Unilever Bangladesh Limited, FINIS, Olympic Industries Limited, Akash DTH, Igloo Ice Cream, and Sailor. Partners included Praava Health, Shohoz Rides, SA TV, Radio Aamar 88.4 FM, Minister Electronics, Prime Bank Limited, Kindred Cafe and Bakery, Tropicana Frutz, Movians, Red Canvas, Star Advertising, and G8 Agency.
The daylong 'IPDC-Sheba.xyz Service Award 2019' also witnessed the award-giving ceremony for the Service Providers and 'experts' working for them, to honor and recognise their efforts. More than 40 awards were given to both service providers and 'experts' to inspire them in providing better service in the future. Amongst these 40 awards- 'RapidMovers' founder Yasir Arafat Riaz, "Pink Salon" founder Fatema Rimi and "Smart Expert" founder Mohammad Zahidul Hasan won "Entrepreneur of the Year", "Joyee Female Entrepreneur of the Year" and "Expert of the Year" respectively. There were two panel discussions in the evening session along with sManager launch. The first panel discussion was on "Can Digital Inclusion for Micro-entrepreneurs help our GDP growth?". The panel was moderated by Raisul Kabir, co-founder and chief executive officer of Brain Station 23. The panelists included- Chief Operating Officer, SSL Wireless, Ashish Chakraborty; Managing Director, US Market Access Accelerator, Tina F Jabeen; E-service Specialist, Access to Information (A2i), Mohammad Ashraful Amin and Executive Vice president- Digital Services, Robi Axiata Limited, Armaan Ahmed Siddiqui. The second panel was on 'How to bring micro-entrepreneurs in Financial Inclusion'. The panel was moderated by Sheba Platform Limited Chairman Raihan Shamsi. The panelists included- Managing Director and Chief Executive Officer, IPDC Finance Limited, Mominul Islam; General Manager- SME and Special Programmes Department, Bangladesh Bank, Lila Rashid; Managing Director and Chief Executive Officer, Prime Bank Limited, Rahel Ahmed; Chairman, Association of Bankers, Bangladesh Limited, and Managing Director and CEO, Mutual Trust Bank Limited (MTB), Syed Mahbubur Rahman; Country Manager, Mastercard Bangladesh and Vice-President, American Chamber of Commerce in Bangladesh, Syed Mohammad Kamal.
The ceremony had more than 1800 attendees that included more than 1500 ervice roviders from Sheba Platform Limited, more than 200 special guests and more than 100 partners & journalists.
"sManager" is the complete business solution for the MSMEs in Bangladesh. It is designed to work as the smart business assistant that will help them managing their business activity through both online and offline touch points, the press release reads. This mobile ERP solution will help a small business in tracking sales, tracking due, digital payment collection, financial inclusion, digital marketing, micro loan for business growth, order processing, account management, and beyond