Poppadom export potential remains untapped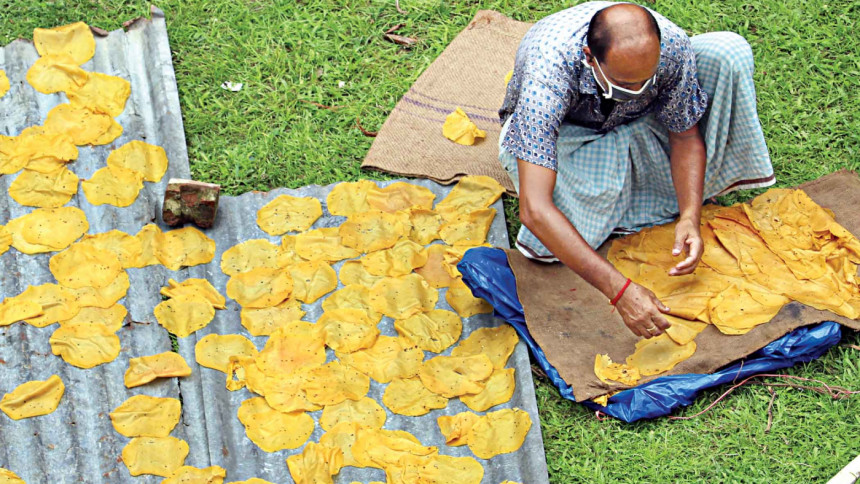 Bangladesh is missing out on the big bucks India is raking in exporting a snack as ubiquitous here as popcorn is in the West.
Poppadom, or papor as it is called in Bangla, is a very thin oil-fried crisp in the shape of a flatbread made from a mixture of powdered green and black grams and grass pea.
The export of poppadom, which is mass produced in Dinajpur, is yet to see a success.
However, it is exported by India to 131 markets, the largest being the United Kingdom.
According to the Agricultural and Processed Food Products Export Development Authority, India exported 19,961.44 tonnes in 2017-18, 19,763.06 tonnes in 2018-19 and 19,503.74 tonnes 2019-20.
However, Bangladesh is yet to capitalise on the taste and nutritional values of the popular snack having potentiality worldwide.
The Export Promotion Bureau (EPB) had run a three-year training in Dinajpur from 2012 with around 500 people engaged in the trade, including women who roll out the snack by hand.
The training focused on quality and hygiene, imparted skills on many owners of small-scale enterprises and raised hopes. But till date, it has not yielded any result.
"The money has gone to waste," said Abdul Kalam Azad, president of Dinajpur Poppadom Manufacturers' Association, whose attempt at exporting 1 tonnes of poppadom to the UK apparently suffered a stroke of bad luck.
"I got the order in March 2016. I become so overwhelmed on getting the message from the officials of the Export Promotion Bureau," he said.
Talking to The Daily Star, he recalled having received an advance of Tk 1 lakh and hiring 20 skilled women paying each Tk 5,000 a month for the job.
"I tried my best to maintain the highest hygiene and quality just to get access to the international market," he said.
But the shipment "accidentally" ended up in Thailand where it was located after a month. "My poppadom consignment was finally shifted to the UK 35 days past the stipulated date," said Azad.
But by that time the snack had gone bad with fungus starting to grow on it for the delayed unpacking, he said, adding, "I suffered a loss of Tk 35,000."
Trader Shibu Saha said poppadom production has been ongoing in Dinajpur for 200 years but the business was yet to see any success as educated people largely neglect the sector.
Around 70,000 people, mostly women who get Tk 25 for rolling 100 pieces of poppadom, and around 100 large and small scale operations in the district are involved in the business, he said.
Shibu said around 10 tonnes were produced in the district each day, although the output goes down a little during the winter and rainy seasons.
Azad said most traders acquired mixing machines to bring ease to the manufacturing process but the women continue to play a key role in maintaining the sustainability of the business.
"We often do not get fair prices for various reasons," said another trader, Sonjoy Roy.
Manufacturers sell each kilogramme of poppadom for around Tk 150 but shopkeepers charge customers double that, he said, adding, "We even do not get any loan support from banks."
Azad said the EPB officials in 2012 had pledged providing a moisture analyser and drier machines to the traders in Dinajpur but did not follow through.
India earns $2 million from poppadom export. "Why shouldn't we?" he said.
Mahbubur Rahman, the EPB director general, said exporting food items was no easy task as a lot of standards have to be maintained.
He said the last poppadom export initiative would be revived. "I will hold a meeting to evaluate everything on poppadom export," he said.