Only 2pc of garment workers received Covid-19 vaccine: study
South Asian Network on Economic Modeling (SANEM) and Microfinance Opportunities (MFO) reveal the study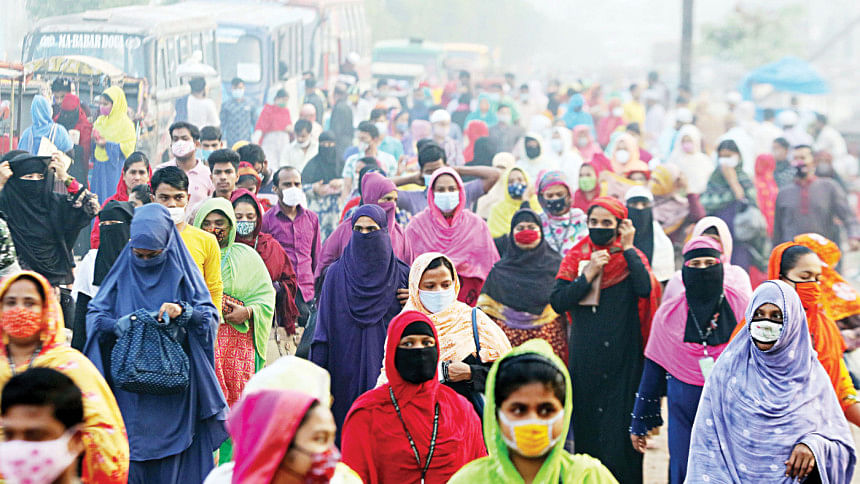 Only 2 per cent of garment workers had received the Covid-19 vaccine in Bangladesh until April this year, according to a study.
The South Asian Network on Economic Modeling (SANEM) and Microfinance Opportunities (MFO) revealed the study as part of their joint project titled "Garment Worker Diaries" in which  SANEM and MFO have been collecting monthly data since April 2020.
The data were collected from a pool of 1,285 workers in Dhaka city, Chattogram, Gazipur, Narayanganj, and Savar during surveys conducted over the phone on April 23, 2021.
Just over three-quarters of the working respondents are women, roughly representative of workers in the sector as a whole. The survey focused on COVID-19 lockdown conditions as well as on garment workers' awareness of and opinions about COVID-19 vaccinations, SANEM and MFO said in a statement.
It said only 2 per cent of the surveyed workers had received the Covid-19 vaccine before the survey.
On being asked whether they think they are eligible to get vaccinated, 36 per cent of respondents said they were eligible, 28 per cent said they were not eligible, and 34 per cent said they did not know if they were eligible, according to the survey.
Overall, 69 per cent of respondents said they were willing to get vaccinated if they were eligible to get the vaccine whereas 31 per cent said they did not want to get vaccinated.
The data also indicates that workers do not have access to adequate information related to Covid-19 immunization.
The ready-made garment industry in Bangladesh, which has been one of the key drivers of our economic growth, has faced severe challenges since the start of the pandemic. Consequently, the lives of the workers employed by the sector have been affected in various ways, the study reads.
However, in the absence of sufficient public transport, 76 per cent of the surveyed workers reported that they walk to their workplaces, while only 10 per cent used rickshaws, 6 per cent used auto-rickshaws, 2 per cent used bus, and 2 per cent used CNGs.
Finally, 92 per cent of the surveyed workers also reported that there was no change in their means of transport, indicating that the majority of workers usually travel to work on foot anyways.
In order to facilitate the recovery process of RMG production, export and the economy as a whole, factory owners, government officials, policymakers and advocacy groups will have to come together to prioritize the health and safety of workers, the stuey observed.