Onion seed growers expect bumper crop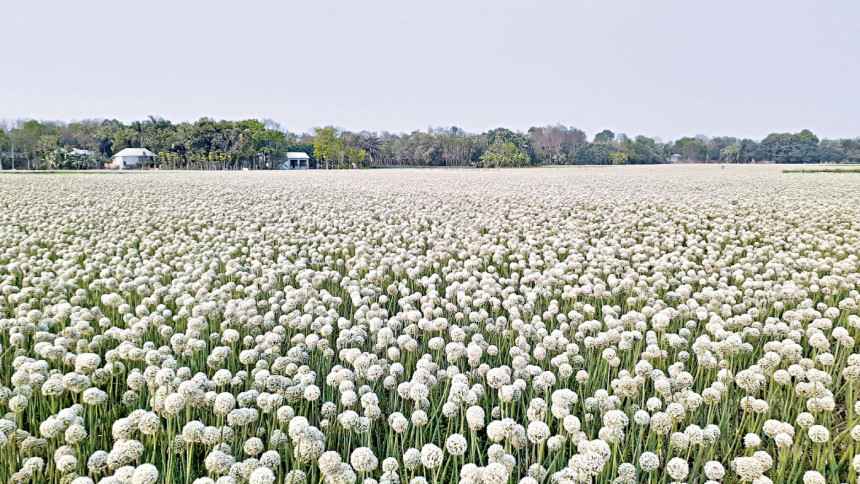 Onion seed growers in Faridpur, one of the largest onion-producing districts, expect bumper yields this year thanks to favourable weather.   
Farmers have cultivated different varieties of bulbs for seeds such as Rajshahi Tahirpur, Superking, Sukhsagar, BARI-4, and Nasik King, apart from hybrid onion seeds.
Faridpur has been a major hub for onion seed production for years because of suitable weather and soil.
"My grandfather used to cultivate onion seeds, and I am doing this too. Most of the farmers of our area have been cultivating onion seeds for generations," said Abul Hasan Tuhin, a farmer at Vasanchar village in the sadar upazila of the district.
Faridpur is the second-biggest onion-producing district, followed by Pabna. It accounted for 15 per cent of the total annual production of 18 lakh tonnes in the fiscal year 2018-19, data from the Bangladesh Burau of Statistics showed.
In Bangladesh, farmers produce about 700 tonnes of onion seeds annually, and Faridpur accounts for 60-65 per cent of the production.
The first week of November to the second week of December is suitable for onion cultivation, and the harvesting begins in the first week of April.
Tuhin cultivated onion seeds on 2.5 acres of land this year. He invested Tk 70,000. "I hope I will be able to bag 5.25 maunds of onion seeds," the 34-year-old said.
Growers have extended the cultivation of onions for seeds to 1,711 hectares in nine upazilas in Faridpur, up 22 per cent from 1,400 hectares the previous year, data from the district office of the Department of Agricultural Extension (DAE) showed.
During a visit to Vasanchar village, this correspondent found that onion growers were passing busy time. Some farmers were hopeful about a bumper yield.
Md Halim Mollah, an onion seed grower in Uttar Alipur of Faridpur upazila, grew onion seeds on four acres this year and said he expected a good yield this year.
Last year, the 70-year-old farmer took home 3.1 maunds of seeds and sold them at Tk 7 lakh.
"The farmers in my locality cultivate onion seeds as it is more profitable than other crops. So, we grow them in all of our lands," said Saidur Rahman, another former from Vasanchar village.
Shahida Begum, a seed grower in Gobindapur village of Faridpur, planted onion seeds on 35 acres of land at an investment of Tk 84 lakh.
She is expecting 350 maunds of onion seeds. Last year, she bagged 200 maunds of onion seeds and sold each maund at Tk 2 lakh.
Farmers are more interested in cultivating the bulb after the prices of the popular cooking ingredient went through the roof in the last two years following an export ban by India.
Farmers cultivated onions on 2.53 lakh hectares of land this year, up 7 per cent year-on-year, DAE showed.
Farmers say they usually sell one maund of onions seeds at Tk 1 lakh. The price rose because of the high demand from producers at the beginning of the cultivation season.
"We will be able to make a profit if we can sell each maund at Tk 1.2 lakh," said Begum, who sells seeds to farmers from Rajbari, Pabna, Gopalganj, and Madaripur.
Hazrat Ali, deputy director of the DAE in Faridpur, said: "Farmers are turning to onion seed cultivation as it is more profitable than other crops."
"We are expecting 1,000 tonnes of onion seeds this year if no natural disaster strikes."