Most stocks on DSE, CSE decline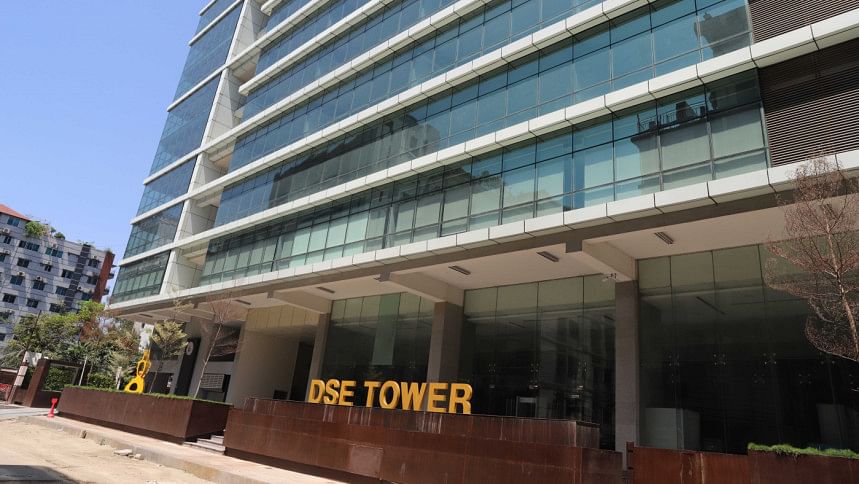 Most shares on the Dhaka and Chattogram stock exchanges declined today.
The DSEX, the benchmark index of the Dhaka Stock Exchange DSE, was down 50 points, or 0.77 per cent, to close at 6,487.
The DSES, the shariah-based index, fell 0.66 per cent to 1,417, and the DS30, the index that consists of blue-chip companies, slipped 0.86 per cent to 2,333.
"The Dhaka bourse witnessed a big fall as pessimist investors were in the selling mood," said International Leasing Securities Ltd, a brokerage house, in its daily market review.
Turnover, one of the important indicators of the market, fell more than 11 per cent to Tk 1,307 crore. Of the securities traded, 72 advanced, 175 gave up, and 124 did not find any buyer. 
Investors' enthusiasm was noticed in the small market cap sectors such as jute and tannery. 
The jute sector rose 5.9 per cent, the tannery sector added 1.3 per cent, and the travel sector gained 0.6 per cent. On the contrary, the ceramic sector slid 2.9 per cent, the cement sector dropped 2.6 per cent, and the service sector went down by 2.6 per cent.
Investors' activity was mostly centred on pharmaceuticals, which accounted for 24.2 per cent of the turnover of the day. The engineering sector made up 10.4 per cent of the day's total monetary transactions. 
Orion Pharma was the most-trading stock on the DSE, with its shares worth Tk 125 crore changing hands. 
Other companies that saw significant trading included Bangladesh Export Import Company, LafargeHolcim, Malek Spinning Mills, Shinepukur Ceramics, Bangladesh Submarine Cable Company, Orion Infusion, and Bangladesh Shipping Corporation.
International Leasing & Financial Services was the top gainer as it surged 10 per cent. 
Jute Spinners soared 9.98 per cent, CVO Petrochemical Refinery was up 9.51 per cent, Northern Jute Manufacturing increased 8.74 per cent, Orion Infusion advanced 8.73 per cent, Ambee Pharmaceuticals went up by 7.49 per cent, and Monno Agro & General Machinery gained 6.69 per cent.     
Fareast Islami Life Insurance suffered the most correction, falling 6.91 per cent, followed by Asia Pacific General Insurance, which declined 6.02 per cent.
S Alam Cold Rolled Steels, Shinepukur Ceramics, Indo-Bangla Pharmaceuticals, and Advent Pharma slid more than 5 per cent, while Bashundhara Paper Mills, Nahee Aluminum Composite Panel, Kohinoor Chemicals Company, and Square Textile each fell more than 4 per cent. 
The Caspi, the all-share index of the Chattogram Stock Exchange, dropped 164 points, or 0.85 per cent, to end at 19,068 on the day.
Of the 262 issues that traded on the bourse in the port city, 50 advanced, 143 declined, and 69 did not show any price movement. 
Turnover plummeted 40 per cent to Tk 21 crore.