Massive cuts in short code tariffs
Charges to drop 77.5pc for govt entities, 50pc for private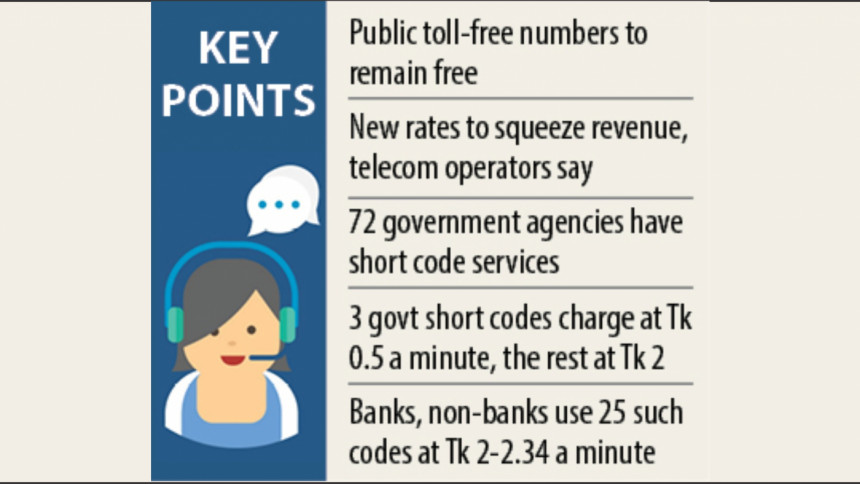 Bangladesh Telecommunication Regulatory Commission (BTRC) has decided to lower the call charge for public service short codes by 77.5 percent to Tk 0.45 from Tk 2 a minute.  
The telecom watchdog also plans to fix the voice tariff at Tk 1 per minute—down from Tk 2—for short codes used by private organisations. 
However, seven designated public toll-free numbers were kept out of this list: they would continue to be free like before.
After taking the decisions in two separate meetings, the BTRC has recently directed all mobile operators to implement the new rates.
But the telecom operators have opined that the move will create extra pressure on their revenue basket.
Short code is a three or five-digit number that the government entities or business houses use to deliver their service automatically and in a much hassle-free way round-the-clock.  
The BTRC used to allocate this number under the country's number plan. 
Currently, there are 72 government agencies that have short code services and only seven of them are toll free, meaning they do not charge customers for the calls. 
Bangladesh Police, the Anti-Corruption Commission, Department of Disaster Management, Bangladesh Election Commission, child helpline service, National Legal Aid Services Organization and the Ministry of Women and Children Affairs use the toll-free codes. 
Of the rest, three numbers charge Tk 0.50 a minute and the rest Tk 2 a minute. And this revenue is shared with the service providers and other carriers as well under their business agreement. 
On the other hand, currently there are 25 commercial short codes allocated by the BTRC, mostly run by banks and some other financial institutions that are also charging Tk 2 to Tk 2.34 per minute. 
The telecom regulator moved to cut the short code calling rate after the health ministry sought a reduced rate. 
"A good number of government and commercial entities have already introduced the short code system, which has taken government services to the door steps of the citizens," said Md Jahurul Haque, chairman of the telecom regulatory body.  
There are commercial short codes and almost all of them started with 16XXX, which is much higher priced compared to the government ones. 
Mobile operators said they are now bound to send a large number of call minutes and crores of texts for free daily on behalf of the government. 
"This is a commercial issue and it should be negotiated bilaterally," said SM Farhad, secretary general of the Association of Mobile Telecom Operators of Bangladesh.  
Farhad said they have already communicated with the BTRC and is hopeful that they will consider it.
It is to be noted that mobile operators are already providing several free voice services to government agencies such as fire service, 999 and so on and that comes with huge costs, he added. 
Earlier in August 2018, the BTRC increased the minimum charge to Tk 0.45 per minute from Tk 0.25 per minute, which has increased customers' costs too.