Local govts can finance only 14pc of their spend
Analysts say at Sanem event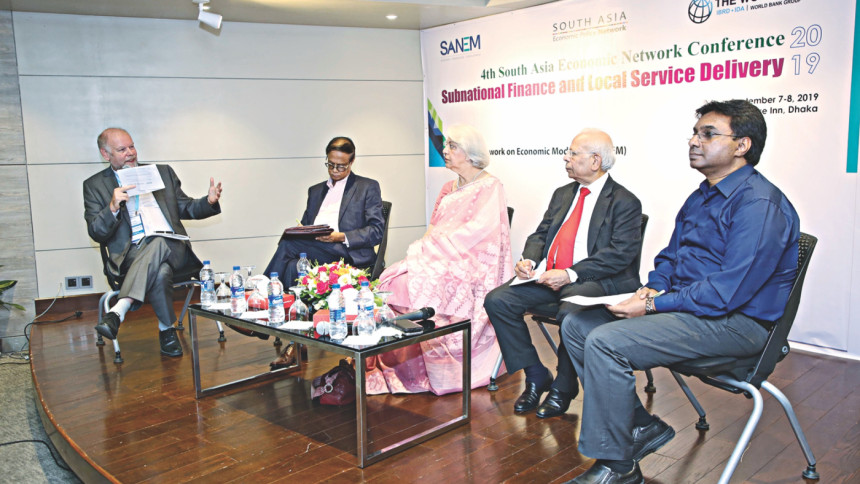 Local government institutions generate only 14 percent of their expenditures and rely on the central government for the rest, Ahsan H Mansur, executive director of the Policy Research Institute, said yesterday.
"Neither do they have the ability to generate resources nor does the central government assist them, which tells us a lot about how we are treating our local government institutions," he said.
"Our government is only concerned about itself. They do not take into account the constitutional mandate for strengthening the local government institutions too," he said.
He spoke while delivering a presentation at the fourth South Asia Economic Network Conference at Brac Centre Inn in the capital yesterday.
Local government institutions should be given the authority to collect and spend money in a transparent manner so that they can deliver better government services to the people, analysts said at the closing day of the two-day event.
The South Asia Network on Economic Modelling (Sanem), South Asia Economic Policy Network and World Bank jointly organised the programme on "Subnational finance and local service delivery".
Selim Raihan, executive director of Sanem and a professor of economics at the University of Dhaka, said the local government institutions were run on deals, not rules, meaning those who have good deals with the higher authority get funds.
There exists high rent-seeking activities, corruption and a lack of political will to strengthen the institutions while competition among the institutions on working more efficiently is non-existent as allocations are not based on merit, he said.
"A policy paralysis" is going on here so none of the political elites talk about the reforms. If this continues, the country will face a setback in attaining the development it dreams of, Raihan said.
"So, what is very important to me is the empowerment of the local governments with the right capacity," he added.
Isher Judge Ahluwalia, chairperson of the Indian Council for Research on International Economic Relations, said there was no getting away from putting elected people in charge.  "In India, there are empowered mayors in only 5-6 states, and this situation needs to be changed," said Ahluwalia.
Analysts from India, Pakistan, Sri Lanka and Bangladesh presented their papers and discussed those in several sessions of the conference.