Loans against movable assets on the cards
BB has already drafted the law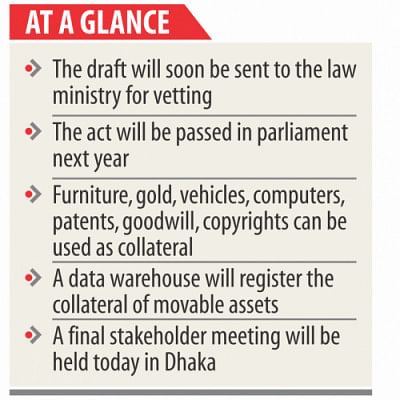 People can soon get loans from banks by keeping their movable assets with banks as collateral, in a development that will expand the access to finance.
The central bank has already drafted a law titled "The Secured Transaction (Movable Assets) Act", which will soon be sent to the law ministry for vetting.
The proposed act is scheduled to be passed by the national parliament within the next year, said a Bangladesh Bank official.
As per the draft act, furniture, gold, motor vehicles, computers, patents, goodwill, copyrights and many other tangible and intangible assets will be considered collateral.
At present, borrowers are mainly allowed to keep the immovable assets like land, house and infrastructure as collateral with banks.
The government will form a "Secured Transaction Registration Authority" under the upcoming act, which subsequently will create a data warehouse to register the collateral of movable assets.
For instance, banks will register movable assets as collateral with the data warehouse once clients take loans by keeping the assets with them.
Such a data warehouse will bar clients from taking loans from a number of banks by way of using the same properties as collateral.
The initiative will help boost the country's ranking in the World Bank's ease of doing business index as it will enable many small businesses to get loans from banks, said the BB official.      
The government signed an advisory agreement with the International Finance Corporation in August 2016 for the implementation of the act.
The total implementation cost of the proposed law is estimated to be $1.86 million, of which the IFC will foot 65 percent as donation, according to a central bank paper.
As per the agreement signed between the government and the IFC, the project will have to be implemented within five years of the signing date of the agreement.
The central bank and the IFC have already discussed with different stakeholders including the Association of Bankers, Bangladesh (ABB), the Bangladesh Leasing and Finance Companies Association, the Bangladesh Investment Development Authority, law ministry and so on.
A final stakeholder meeting will be held today at the capital's Pan Pacific Sonargaon hotel, where officials of the finance ministry, the central bank, the IFC and representatives of the ABB will take part.
The draft act would be sent to the law ministry for vetting just after the stakeholder meeting, according to the BB official.
All the developed countries and the majority of the neighbouring ones have already implemented such act to perk up the efficiency of their financial sector.
Access to finance would become easier for entrepreneurs once the proposed act is implemented, said Shafiqul Alam, managing director of Jamuna Bank.
The data warehouse run by the proposed Secured Transaction Registration Authority will also help banks disburse loans following a secured manner.
"Banks are currently disbursing loans by taking movable assets as collateral. But the new act will bolster its capacity," he added.