Korean firm seeks 700 acres urgently
As its Myanmar investment plan unravels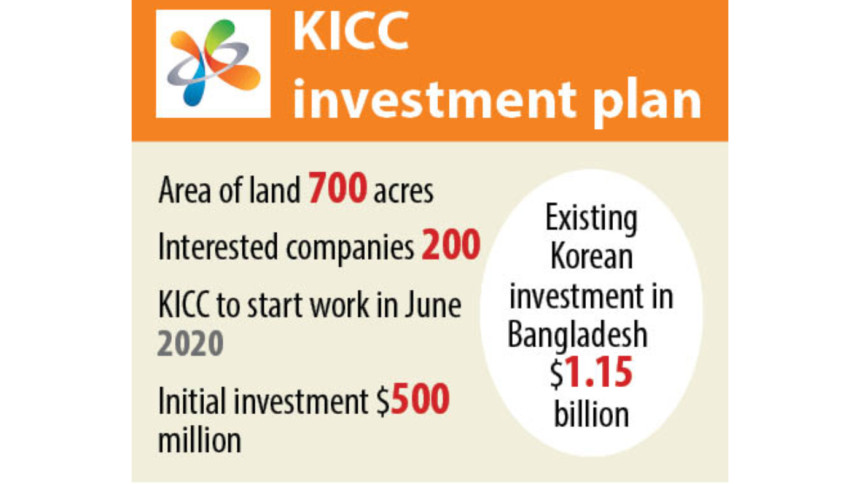 Korea Industrial Complex Corporation (KICC) is urgently seeking 700 acres of land in Bangabandhu Sheikh Mujib Shilpa Nagar that it intends to start developing from June.
It aims to bring in South Korean textile, leather and jewellery manufacturers with an initial investment of $500 million.
Bae-Ho Cho, chief executive officer of the South Korean industrial infrastructure developer, also sought to know by February 15 if the land in Mirsarai can be leased out to them at a lower price.
The KICC has already conducted feasibility studies on the land they expect and is ready to make advance payments if necessary to expedite the allotment.
"We will provide land but are not sure how much we will be able to provide," said Paban Chowdhury, executive chairman of the Bangladesh Economic Zones Authority (BEZA), after the CEO met him for a third time on January 20.
The CEO showed keen interest for investment and does not want to waste time, Chowdhury told The Daily Star.
The KICC earlier informed that it was focusing on Bangladesh after facing setback in developing two industrial parks at Bago and Mun states in Myanmar since 2013 for a scarcity of power and water.
South Korean companies want to shift factories to Bangladesh to gain a competitive edge in context to prices in the global market while availing better utility services and infrastructure, Chowdhury said.
He further said many South Korean companies including Saumsung and LG were already present in Bangladesh and they too were looking for separate industrial parks to expand.
The BEZA has already allocated separate industrial zones for investors of Japan, India and China and development work of those have already started, he said.
During a visit to Bangladesh in July last year, South Korean Prime Minister Lee Nak-yon also expressed eagerness to invest in infrastructure, power, ICT, construction, shipbuilding and energy sectors of Bangladesh.
Over 150 South Korean companies have invested a total of $1.15 billion in Bangladesh, making the East Asian country the fifth highest investor, according to the Bangladesh embassy in Seoul.
While most of the South Korean investments are in the labour-intensive garment manufacturing sector, new funds are flowing in to power, shipbuilding, housing and banking.
According to the embassy, more than 20 big Korean companies showed interest in Bangladesh last year as the investment climate was improving very fast.
Bangladesh's exports to South Korea is on the rise but the trade gap is still heavily tilted towards the Asian economic giant.
In fiscal 2018-19, Bangladesh's exports stood at $370 million, according to data from the Export Promotion Bureau.
South Korea's exports to Bangladesh in fiscal 2017-18 stood at $1.2 billion. Last year's export data is not available with the Bangladesh Bank yet.