Gold worth Tk 73,000 crore might be smuggled into the country annually
Says BAJUS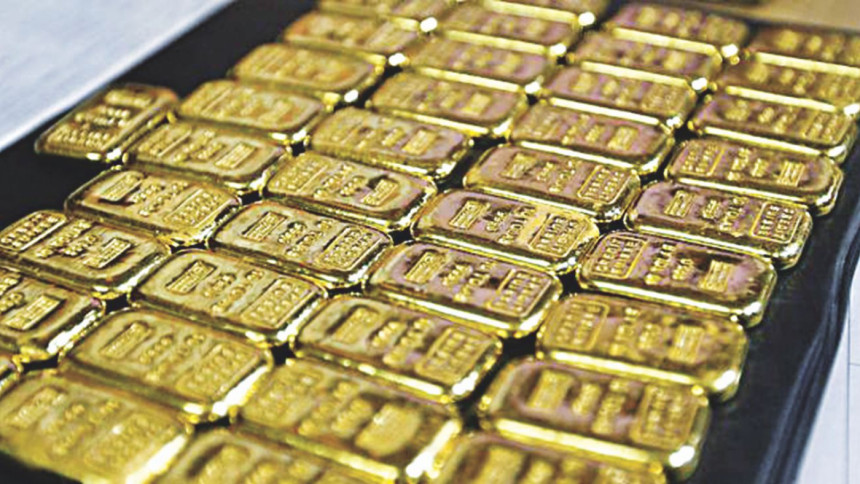 Gold bars and pieces of jewellery that are smuggled into the country might be worth around Tk 73,000 crore a year, said the Bangladesh Jeweller's Association (BAJUS) today.
The association shared its observation at a meeting with the Bangladesh Financial Intelligence Unit (BFIU) to combat gold smuggling at the Bangladesh Bank headquarters in Dhaka. Md Masud Biswas, head of the BFIU, presided over the meeting.
It urged the authorities to form a monitoring team comprising members of the Bangladesh Bank, the National Board of Revenue and the BAJUS to combat smuggling and money laundering and identify smugglers.
The association will also carry out awareness campaigns among its 40,000 members in order to stop money laundering through gold smuggling, said the BAJUS.
BAJUS also recommended gearing up the drives made by law enforcement agencies to tackle gold smuggling.
A Bangladesh Bank official said a vested quarter collects remittances from migrant workers abroad to purchase gold bars and ornaments with the funds, after which the items are sold in domestic markets.
The cartel then pays the funds owed to the beneficiaries of remittances, which is why the country is now being deprived of a substantial amount of foreign currency, the central bank official said.
Dilip Kumar Agarwala, general secretary of BAJUS, told reporters after the meeting that the country's foreign exchange reserve is now in a precarious position.
But if gold smuggling can be stopped, the reserves will get a boost, he said.