Informal workers slip through the cracks again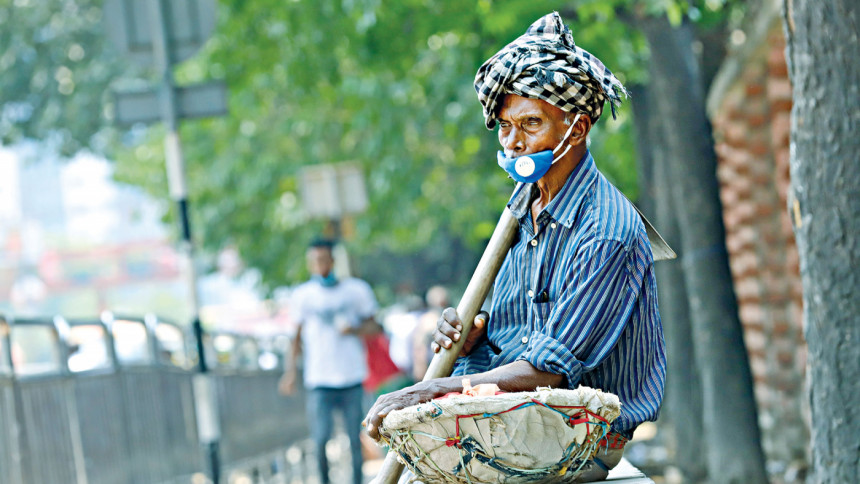 Workers of the urban informal sector, which has been largely ignored despite the devastating pandemic for more than a year, are facing a fresh onslaught of adversities amid a surge in coronavirus infections.
Besides, the announcement of a week-long hard lockdown from today has only exacerbated their hardship following a year of living from hand to mouth.
From CNG-powered auto-rickshaw drivers to small tea stall owners, informal earners have witnessed a drastic fall in income in the past three weeks as the number of Covid-19 patients and deaths grew at an alarming rate from the second week of March.
"From 8:00 am to 12:00 pm, I earned only Tk 10," Srilal Babu, a cobbler in the capital's Rupnagar area, told The Daily Star yesterday.
Babu was sitting on a small wooden stool on the footpath with his eyes filled with complete hopelessness. His daily income dropped to Tk 150 to Tk 200 in the last few days, from more than Tk 700 before the pandemic.
"Life has become so tough. Over one year, I can't even afford to buy food for my kids," said Babu, who has two children.
He had to shut his business for a few months last year due to the initial lockdown when he had to take over Tk 80,000 in loans to bear his family expenses.
"I now struggle to pay the instalment of those loans," the 55-year-old said, adding he did not get even one kilogram of rice as a donation during the pandemic, let alone the government stimulus funds.
According to experts, more than five lakh rickshaw-pullers, 25,000 CNG-powered auto-rickshaw drivers, over one lakh ride-hailing motorcycle drivers, and thousands of street vendors, van-pullers, bus drivers, cobblers, restaurant workers, and sweetmeat makers will suffer from the fresh lockdown measures.
Rubel Miah, a CNG-powered auto-rickshaw driver, said his daily income had halved to Tk 500 since February last year.
"January and February of this year were pretty good as we were able to get frequent trips. Since March, the number of passengers dropped and after paying rent, there is virtually no income."
"And now, for these new restrictions, I don't know how I will pay my house rent this month."
Sugarcane juice seller Md Ashiq said life has become increasingly difficult due to the pandemic.
"I earned just Tk 300 on Monday, and then the police beat me up for selling it in the evening," he said.
Ashiq used to sell juice worth Tk 4,000 to Tk 4,500 per day before the pandemic. But after a pause during last year's lockdown, he started selling sugarcane juice and saw his daily sales increase to just Tk 2,000 in December.
"After the pandemic began, profit was minimal as I have to pay the cost of sugarcane and fuel too," Ashiq said.
People do not want to drink juice prepared in an open-air environment anymore as they think it may contain pathogens.
"But I sell juice maintaining all the hygiene rules. The new lockdown will hit me hard again, and it will be impossible to run the family," the father of two said.
The Daily Star spoke to more than a dozen such day-labourers yesterday, and most of them said the pandemic had wreaked havoc on incomes.
They also claimed to be the hardest hit by the virus-induced economic fallout as many had to borrow money from loan sharks that charge high interest to run their families.
Minu Begum was divorced more than a decade ago. Her husband not only refused to pay any alimony but also the expenses of their two children.
She then opened a tea stall in Duaripara in Dhaka, and with the earnings, she managed to bear the educational expenditures of her daughter, who graduated from the University of Dhaka's finance department last year.
Her son is scheduled to take part in this year's Secondary School Certificate exams.
But after the pandemic hit the country, Begum's shop was shut for two months, forcing her to borrow money with hefty interest rates to run her family.
"I have borrowed a lot of money, and I don't know how I will repay. This new lockdown will upend my life severely," she said.
She borrowed Tk 5,000 from someone to pay the exam fee for the son. She has to pay Tk 500 as interest for the loan per month.
"If there were no new lockdowns, I could have been able to repay it," Begum added.
Poritosh Mistri was laid off by a garment factory in Mirpur four months ago.
"After working for eight years, they suddenly told me that I am fired. I can't explain how bad I felt when I was told I did not have the job," he said.
In order to survive, he opened a small shop in the capital's Rupnagar are to sell tea, cigarettes and snacks items.
"Business was going slightly well, but the situation has been bad for the last 15 days. I can't even imagine how I will run my family of four from tomorrow as I am the sole breadwinner," Poritosh said.
According to Asif Saleh, executive director of Brac, the largest non-development organisation in the world, the workers who live off daily wages will struggle immensely during the lockdown.
These workers are the majority in Bangladesh -- particularly in urban areas.
Individuals with a movement pass issued by the police can still go outside but it can only be availed online.
"These initiatives are not thought through from the poor people's point of view," Saleh said, adding that if the situation prolongs, they will face starvation like last time.
He went on to say that cash transfers should be made to disburse funds from the government stimulus packages for urban slum dwellers.
Since much of the stimulus funds remain untapped, the government could provide cash assistance to the poor like it did last year.
Saleh also suggested setting up soup kitchens for cooked food distribution in various points of the city, which Brac did successfully last year.
In the long run, a proper national database of the country's ultra-poor should be set up to support them with social security support so that quick cash transfers can happen when needed. 
In Bangladesh, the social safety net system is still extremely fragmented, with 22 ministries having different types of allowances for them. It is often misdirected, and the really needy do not get it. 
"So, a proper verification should happen once the database is ready," Saleh said.
"NGOs could be used to identify the ultra-poor and provide support to them.  The rich people of society also need to come forward to support them in times of crisis like this," he added.