ICDs raise export container handling tariff by 25%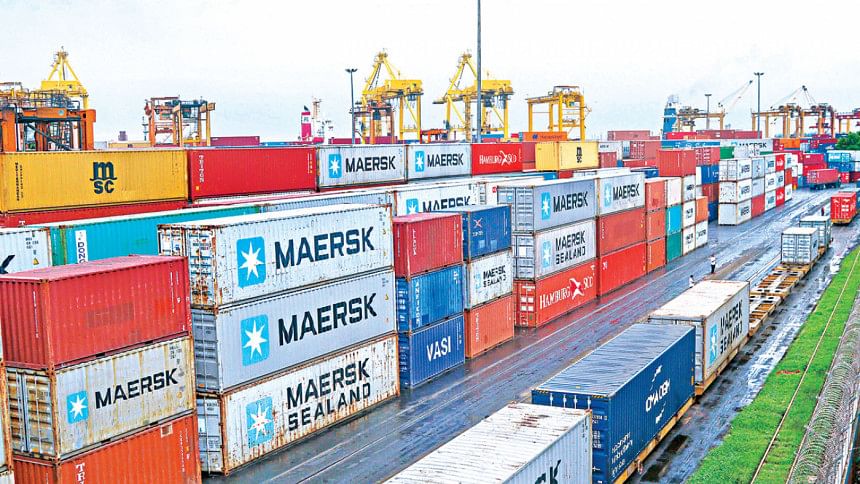 The owners of private inland container depots (ICDs) raised tariffs for handling export laden containers by 25 per cent due to price hike of the diesel.
The decision was taken today in a meeting between the leaders of Bangladesh Inland Container Depots Association (BICDA) and Bangladesh Freight Forwarders Association (BAFFA) at the BAFFA office at Banani in Dhaka.
Confirming it, BICDA Secretary General Md Ruhul Amin Sikder said after the two hour long fruitful meeting leaders of the two organisations unanimously agreed about raising two types of tariffs including export stuffing package and VGM (verified gross mass) charge by 25 per cent.
The new rates would be effective from August 6.
The export stuffing package has been raised for a 20-foot container from Tk 5,092 to Tk 6,365 and for a 40-foot container from Tk 6,790 to Tk 8,488.
The package is a combination of charges for carrying an empty container from depot's own yard to its CFS (container freight station), loading of export cargoes into the container at the CFS, taking the loaded container back to the depot yard and later transport of the laden container from the depot to the port for shipment.
Moreover, the VGM charge taken for weighing an export load container was Tk 1,415 and it was raised by Tk 354.
Freight forwarders usually pay these charges on behalf of the international buyers.
BICDA Secretary General, however, said these charges are the highest rate fixed by BICDA while many ICDs individually take lower than these rate under bilateral deal with the buyers.
The raise would be effective based on those rates only, he said.
BICDA President Nurul Qayuum Khan, First Vice President SAJ Rizvi and Vice President Khalilur Rahman attended the meeting on behalf of BICDA while BAFFA President Kabir Ahmed, Senior Vice President Amirul Islam Chowdhury, Vice President Khairul Alam Sujan and Nurul Amin led BAFFA.