GPH begins production at new plant
Stock up 2.47pc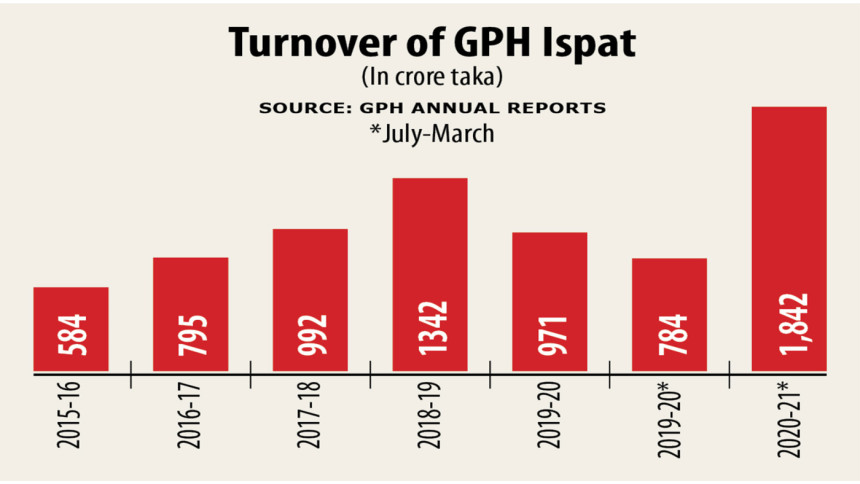 Stocks of GPH Ispat rose 2.47 per cent yesterday after news that the company's Tk 2,390-crore plant has begun commercial production.
The stock rose to Tk 37.40 on the Dhaka Stock Exchange (DSE) after the Chattogram-based steel maker informed investors that its newly commissioned plant was now operational.
The new plant has a capacity to produce 8.4 lakh tonnes of mild steel (MS) billet and 6.40 lakh tonnes of MS rod, steel beam, angle, channel, and flat annually.
The company would have to wait for a while to start manufacturing products as per its capacity, according to technicians who were part of the plant's commissioning.
The commissioning was done with the help of local technicians as well as online support of the technology supplier, Primetal Technologies Austria GmbH, GPH Ispat said in a disclosure posted on the DSE website.
Due to the coronavirus pandemic, it was not possible to avail the on-site support of technicians from Primetal Technologies Austria, the main technology supplier to the plant. This acted as a barrier to the completion of the plant.
According to local technicians, the plant is capable of starting commercial production of certain items, particularly MS rod and MS billet.
The company has a great potential to grab more share in the MS rod and MS billet market, so its stock price is on the rise, said Abdul Haque, a retired banker who has invested most of his provident fund in the stock market.
On the back of the new plant, the company's turnover will jump as it is already using most of its capacity. However, fear remains whether the market is ready to absorb the higher amount of such products, he added.
In 2018-19, GPH Ispat's production capacity utilisation in MS billet was more than 80 per cent. For MS rod, the capacity utilisation was full. In 2019-20, it reduced in both cases due to the impact of Covid-19, according to the company's annual report for 2019-20.
In recent year, steel consumption in Bangladesh grew at double digits.
"But 2020 was an exception due to the pandemic," said Kamrul Islam, executive director for finance at GPH Ispat.
In 2021, the steel demand rebounded by 8 to 10 per cent compared to the 2019, he said.
"As our product quality is better, but the price is similar to others, the demand for our products is good. So, we are hopeful to see higher market share soon."
GPH Ispat's market share is around 15 per cent. In Bangladesh, the annual production of steel products stands at around 70 lakh tonnes.
"Our high-quality products are already being exported, and we have a plan to boost exports," Islam said.
The company started to export steel products to China in November 2020.