Finance shares pull investors at DSE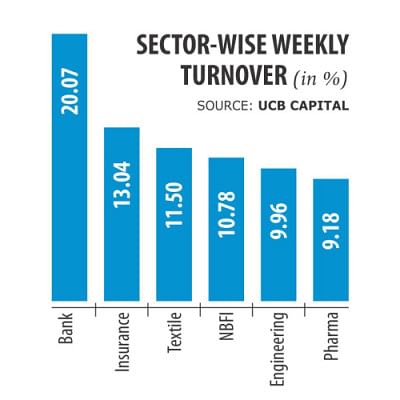 Finance shares on the Dhaka Stock Exchange drew investors last week as they poured money in the financial sector ahead of their full-year earnings reports, helping it make up almost half of the turnover.
Nearly 44 percent turnover came from banks, non-bank financial institutions, and insurance shares in the week.
The banking sector accounted for 20.07 percent of the turnover, while the insurance sector's share was 13.04 percent and NBFI's 10.78 percent, according to UCB Capital Management, a stock broker.
"Only the financial sector is going to declare annual earnings and dividend in the coming months, so investors want to hold these shares," said a top official of a leading stock broker.
He says investors, buoyed by the largely peaceful recent national polls, have shown renewed confidence in the market and have chosen the financial sector.
In the week, the banking sector saw the highest gain as well, adding 5.90 percent. It was followed by telecommunications (5.68 percent), insurance (4.95 percent), mutual funds (2.92 percent), power (2.40 percent), and financial institutions (0.82 percent).
On the other hand, engineering, food and pharmaceuticals sectors shed 1.78 percent, 0.88 percent and 0.02 percent respectively.
Company-wise, insurers also performed well among the finance companies as four out of top 10 gainers were from the sector. Sonar Bangla Insurance emerged as the week's best performer, posting 45.19 percent gain.
Turnover on the DSE averaged Tk 965 crore in the week, which was 8.42 percent lower than the previous week. Premier Bank dominated the chart with its shares worth Tk 186.60 crore changing hands.
The benchmark index of the DSE rose 124.44 points in the week.