FBCCI, USDA team up to share agricultural information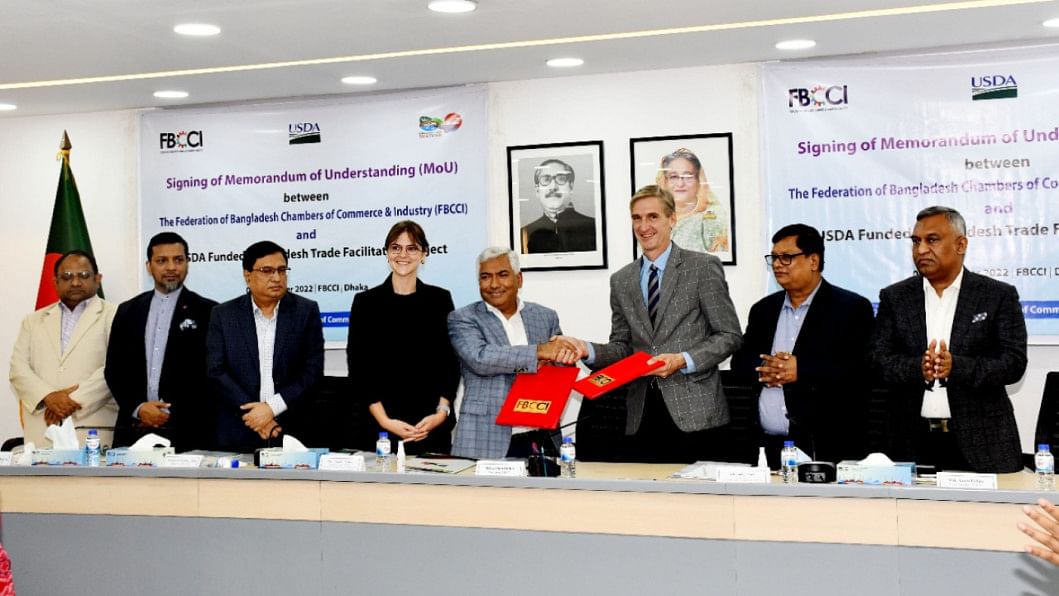 Bangladesh has barely tapped its potential in the global market for agricultural and agro-processed products as the country does not have an international certification system, according to Md Jashim Uddin, president of the Federation of Bangladesh Chambers of Commerce and Industry (FBCCI).
So, the production of such products for both local and international markets should be increased, he said during an agreement signing ceremony between the FBCCI and United States Department of Agriculture (USDA) at the former's office in Dhaka today.
The signing of a memorandum of understanding (MoU) on Bangladesh Trade Facilitation (BTF) between the FBCCI and USDA will help increase shipments of agricultural and agro-processed food, diversifying the country's exports in the process, the FBCCI said in a statement.
This is because under the MoU, the standards of imported and exportable goods will be maintained, it added.
Michael J Parr, project director of the USDA funded BTF, said the project will facilitate the sharing of agriculture related information with the private sector in Bangladesh, for which exports of locally produced agro products will have the opportunity to grab more global markets.
Victoria Baker, international programme specialist of the USDA Foreign Agricultural Service, said mutual cooperation in the exchange of information between the USDA and private sector of Bangladesh will be strengthened under the MoU.
"Such kinds of cooperation will also help agriculture grow in Bangladesh," Baker added.