Farmer reaps a fortune from mixed fruit orchard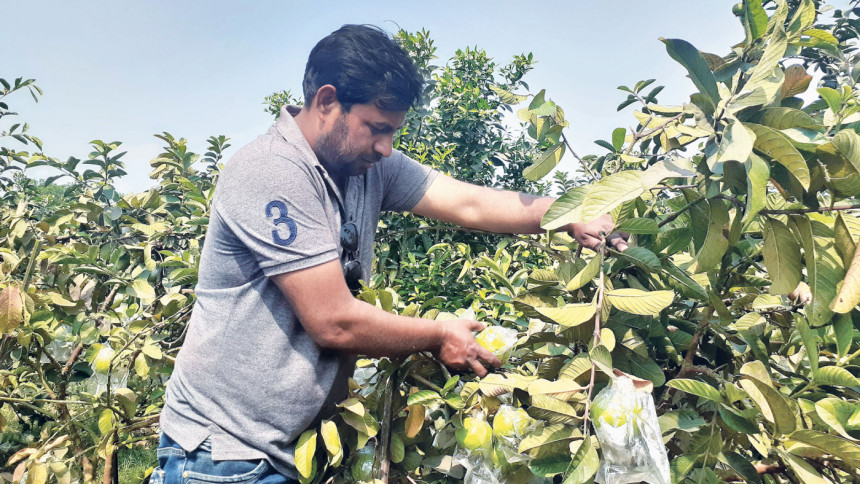 He tried to make a living by venturing into seasonal crops, grocery shop and cattle farming after returning from Kuwait in 2007. But all of Mofijur Rahman Mafi's endeavours were in vain.
He began a Kashmiri apple plum orchard on a seven-bigha plot in Hat Gobindapur village under Sadar upazila in Faridpur by taking the land on lease in 2019, although his father was not sure about its success.
But it took only nine months for his father, Akkachh Sardar, to find that his son was right as the plants started bearing a huge number of fruits. He sold the plum for Tk 30 lakh after an investment of only Tk 5 lakh.
"After returning from Kuwait, I had attempted to try my luck in many things, but all of them were unsuccessful before the idea of setting up an orchard to grow Kashmiri apple plum came to my mind," Mafi said.
Buoyed by the success, the forty-year-old later added 35 bighas of land to the orchard. Thanks to the orchard, Mafi has not only changed his fortune, he has also created jobs for at least 12 people.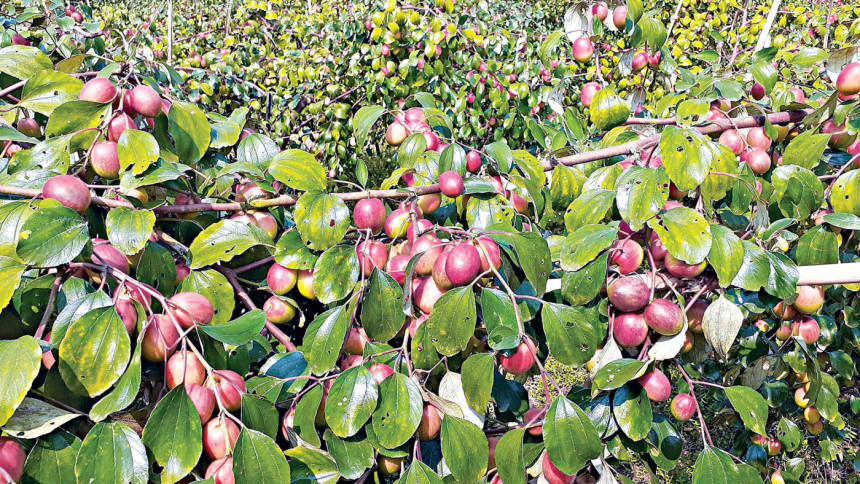 This year, he has grown orange on six bighas of land, malta on two bighas, plum on 16.50 bighas, guava on 13.50 bighas, dragon fruit on 30 decimals, sapota on 30 decimals, and wood apple on 26 decimals of land.
He also planted 1,250 mango saplings and 900 lemon saplings.
In 2021 so far, he sold plums, guavas and malta worth Tk 75 lakh. He also made Tk 1.5 crore by selling saplings to farmers across the country.
He needs at least 12 people daily to maintain the orchard.
Kanchan Sardar, one of the workers, has been employed in Mafi's orchard for two years. Before joining the orchard, the 28-year-old did not have any permanent job.
"Now I can work round the year in the orchard."
Young and educated people from other districts visit the orchard and buy saplings.
Md Azadul Islam, a resident of Islampur village under Bhurungamari in Kurigram, saw a YouTube video of Kashmiri apple plum in Mafi's orchard in 2019. He visited the orchard in December of the same year.
Islam bought 1,250 pieces of Kashmiri apple saplings in March last year. "This year, I sold plums grown in those plants."
Osman Goni, a resident from Fazilpur village under Sadar upazila in Noakhali, said after watching a video of Mafi's mixed fruit orchard, he contacted him. He bought 50 pieces of Kashmiri apple plum saplings.
Md Hazrat Ali, deputy director of the Department of Agricultural Extension in Faridpur, said Mafi had become a role model for the educated, unemployment young people in the district.
"Seeing his success, some educated people are communicating with us for technical supports to set up mixed fruit orchards."