Export drops 5pc in January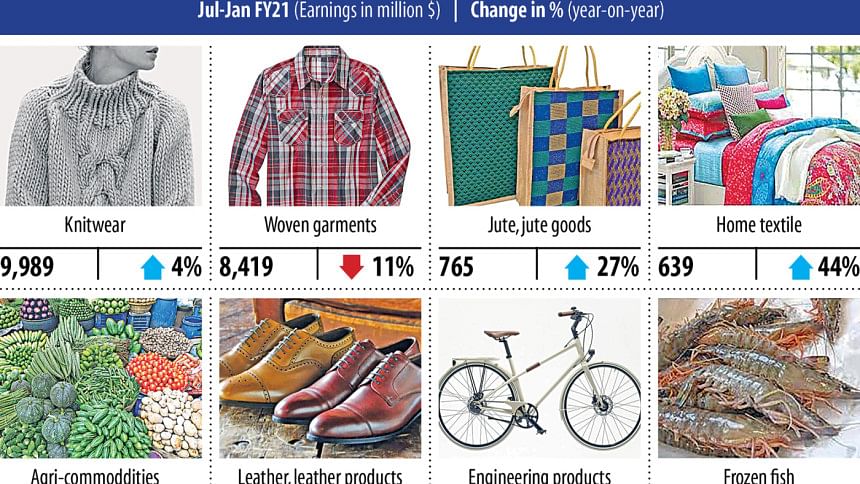 Earnings from merchandise exports fell 4.99 per cent year-on-year to $3.43 billion in January because of slower recovery of garment shipment from the pandemic-induced business slowdown, official data showed yesterday.
January's receipts were 9.58 per cent lower than the monthly target of $3.80 billion, according to data from the Export Promotion Bureau (EPB).
Between July and January, the first seven months of the fiscal year, the shipment of garment, which typically contributes more than 80 per cent to the national export, declined 3.44 per cent year-on-year to $18.40 billion.
Of the earnings from the apparel export, $9.98 billion came from the knitwear shipment, which was up 3.84 per cent. The export of woven items declined 10.85 per cent to $8.41 billion.
The shipment of woven items has been declining since June last year as many people have confined themselves to homes and many worked from home because of the deadly virus.
Longer stay at homes has pushed up the demand for knitwear items.
The export continues to show a depressing trend, reflecting the worrying scenario in the global trade, particularly with regard to readymade garment, according to data from the Bangladesh Garment Manufacturers and Exporters Association (BGMEA).
The latest export data published by the EPB shows that garment export in January declined 7.01 per cent year-over-year and woven export dropped 13.89 per cent.
"The major markets of our RMG items are struggling with the intensity of the pandemic," said BGMEA President Rubana Huq.
Kazi Belayet Hossain, president of the Bangladesh Frozen Foods Exporters Association, said frozen fish was sold for $12 to $12.5 per pound before the pandemic. Now the same quantity of frozen fish is being sold for $9 to $9.5 per pound.
"The second wave is affecting the frozen fish severely."
Unfortunately, frozen fish exporters did not get adequate loans from the government-sponsored stimulus package, Hossain said.
"The stimulus package should be extended at least for one more year."
Jute and jute goods shipment rose 27.08 per cent year-on-year to $765.63 million between July and January. Home textile export was up 44.34 per cent to $638.96 million.
Shipment of leather and leather goods declined 5.78 per cent to $526.58 million, terry towel shipment slipped by 2.79 per cent to $23.31 million, frozen and live fish export fell 8.62 per cent to $308.26 million, and agricultural product shipment went down 2.06 per cent to $591.49 million.
The overall export receipt between July and January declined 1.09 per cent year-on-year to $22.67 billion, EPB data showed.