Citi launches 15th edition of microentrepreneurship awards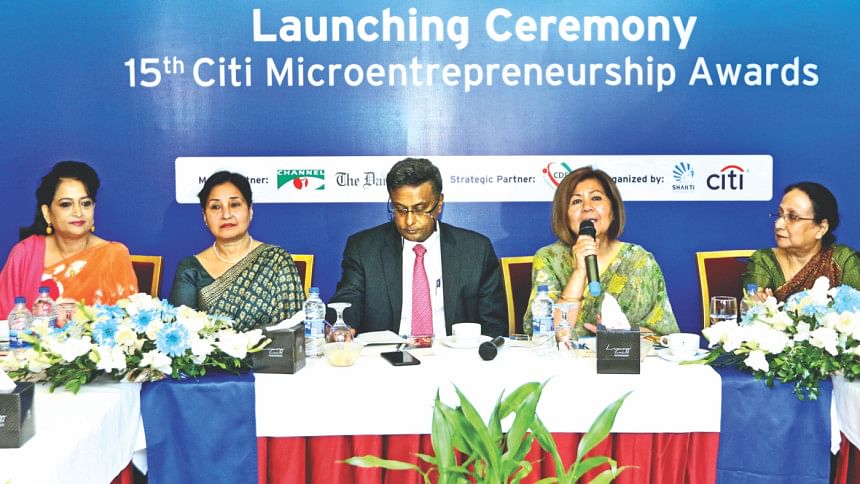 The Citi Foundation, the philanthropic arm of Citigroup, yesterday launched the 15th Citi Microentrepreneurship Awards (CMA) to encourage micro, small and medium entrepreneurship in the country.
This year the CMA programme is being organised jointly by the Citi Foundation and the Shakti Foundation, while the strategic partner of the event is the Credit and Development Forum.
The awards, which were initiated in 2005, will be given in six categories, the organisers announced at a press conference in the capital's Six Seasons Hotel.
The deadline for submission of the applications is January 25 next year. The award ceremony is expected to be held next year.
The best micro-entrepreneur will get Tk 4.5 lakh and the best woman micro-entrepreneur, the best agriculture micro-entrepreneur and the best youth micro-entrepreneur will receive Tk 3.5 lakh each.
The first runner-up in each of the four categories will receive Tk 1.5 lakh and the second runner-up Tk 1 lakh.
There will be no prize money for the best microfinance institution and the most innovative microfinance institution.
Speaking at the media briefing, Rokia Afzal Rahman, national advisory council member of the award, said micro and small entrepreneurs are contributing to Bangladesh's economy vastly, so they deserve proper recognition and finance.
"The award is a way to recognise the micro, small and medium entrepreneurs," she said.
Rokia, also the managing director of Arlinks Ltd, said Bangladesh was successful in reaching the Millennium Development Goals and its economic growth is also expanding at around 7 percent where the SME sector is playing an important role.
Most of the SME entrepreneurs run their businesses by taking microcredits from different institutions and micro-entrepreneurs do not become defaulters but big borrowers do.
"So, banks and other institutions should provide more credit to the SME sector," she said. Salehuddin Ahmed, a former Bangladesh Bank governor, said bankers are still reluctant to lend money to the SMEs -- they prefer large borrowers.
"Despite making a huge contribution, the SMEs are still not properly financed and recognised," said Ahmed, also an advisory council member of the award.
"The award is a very good initiative to encourage the SME sector."
N Rajashekaran, managing director and country officer of Citi Bangladesh, said economic growth, social development and culture of Bangladesh are three pillars of the present Bangladesh.
"Microentrepreneurs bring all these three pillars together. Thus, we recognise their contribution."
Parveen Mahmud, chairman of the Underprivileged Children's Educational Programs; Selima Ahmad, a lawmaker and the president of the Bangladesh Women Chamber of Commerce and Industry, and Humaira Islam, founder and executive director of the Shakti Foundation, also spoke.
The Daily Star and Channel i have joined the initiative as media partners.