Car market thriving on economic prosperity
The automobile industry is passing through a good time for at least four years now thanks to the increase in disposable income and easy financing from banks and non-bank financial institutions.
In 2017, the car market size hit Tk 5,000 crore, according to industry insiders.
"The car business is related with the country's economic development and purchasing capacity of consumers," said Mohammed Shahidul Islam, chairman of HNS, one of the major car importers.
Car ownership is no longer a luxury for many but a need, he said, while forecasting happier days ahead as the economy is growing fast.
Toyota is the undisputed leader in both the reconditioned and brand new car market with a 90 percent market share.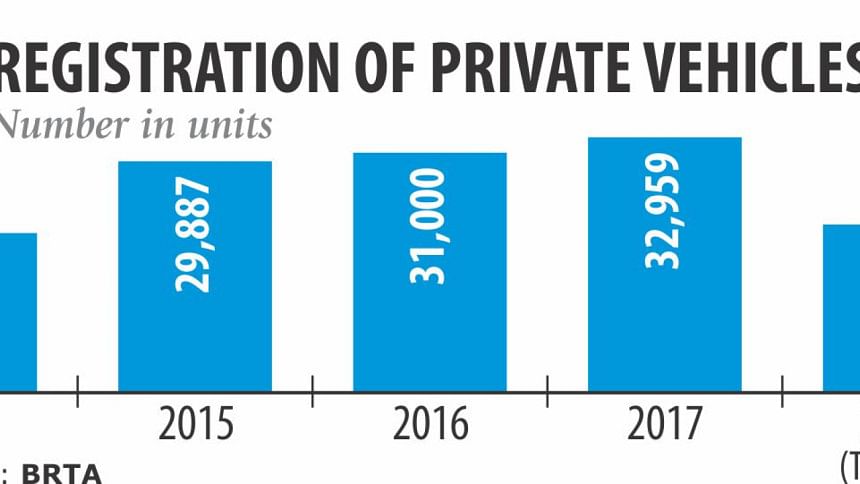 The second, third and fourth positions are occupied by Japanese automotive manufacturers Nissan, Honda and Mitsubishi respectively. South Korean giant Hyundai and Indian car manufacturers are making headway too.
The prices of Toyota cars -- reconditioned or brand new -- start at Tk 13.5 lakh and go up to over Tk 32 lakhs.
Saloon cars are by far the most popular type, accounting for 55 percent of the vehicles sold, according to a market analysis of Mutual Trust Bank.
Sports utility vehicle account for 10 percent of the vehicles sold.
Auto loan facilities are not satisfactory yet as the banking sector provides at best 50 percent of the car price, said Habibullah Dawn, president of Bangladesh Reconditioned Vehicles Importers and Dealers Association (BARVIDA).
Banks should provide auto loans of up to 80 percent of the car price, he said.
Dawn thinks the popularity of ride-hailing services like Uber and Pathao along with rising purchasing capacity of customers are helping the car market to thrive.
"Some people are purchasing cars due to sub-standard public transport."
He sees a good future for the sector as the necessary infrastructure is improving. "And the car market is still at a marginal level in Bangladesh."
Last fiscal year, the government earned Tk 3,700 crore from the sector and it will soar in the coming days if policy support is extended.
The government's decision to allow the import of hybrid car is helping the market to grow, said Aslam Serniabat, proprietor of Car Selection, a major player in the sector.
Now, at least 20 percent of the cars brought into Bangladesh are hybrid ones, which are getting popular due to fuel economy and being environmentally friendly.
In 2017, a total of 32,950 units of cars were registered, up 7.08 percent year-on-year, according to data from the Bangladesh Road Transport Authority.
As of September, 21,897 units of cars were registered.