Buoyant economy sending positive signals to global investors
Says Andy Wu, a director of Shohoz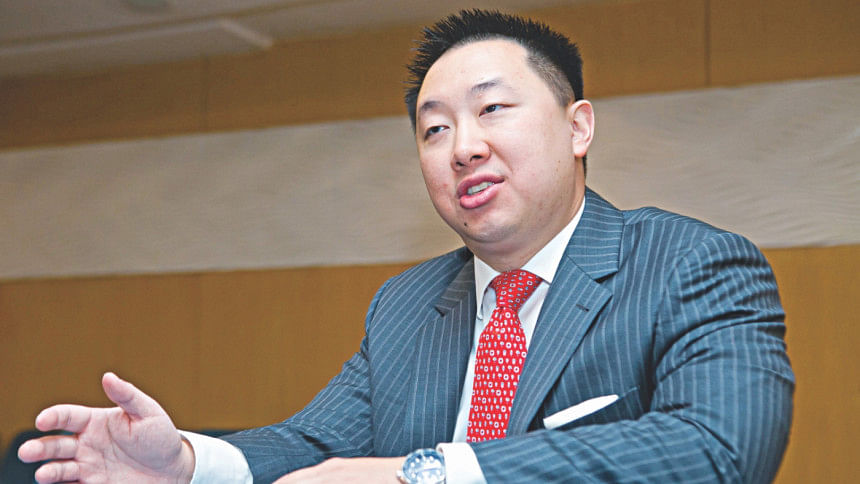 Bangladesh's steady higher economic growth is sending strong messages to foreign investors that the country is a place to invest in and do business in various areas, including the service sector, said an angel investor of local technology company Shohoz. 
Andy Wu, also an assistant professor for business administration at the strategy unit of the Harvard Business School, said the country has been pulling off massive economic growth for over a decade and this gives a positive signal to the outside investors. 
The growth will transform many sectors and the same has happened to other markets as well. 
"That's why investors are very interested about Bangladesh," he told The Daily Star in an interview.    
Andy received a PhD and MS in applied economics from the Wharton School of the University of Pennsylvania, where he is a senior fellow at the school's Mack Institute for Innovation Management and earned a Bachelor of Science in economics and mathematics at the Massachusetts Institute of Technology. 
He conducts research on strategies for how technology entrepreneurs internally organise and externally mobilise resources to achieve scale for competitive advantage. 
Previously, Andy invested in drone and software and financial technologies in the US. He has 11 patents granted or pending in rapid prototyping, medical imaging, robotics, and e-commerce. 
It started its journey in late 2014, introduced online ticketing and last year added ride-hailing and food delivery services. 
Recently, it celebrated its five years journey and Andy was present in the ceremony in Dhaka. He says Shohoz suits him well. 
Shohoz has made transportation and logistics accessible to everyone in Bangladesh, he said.  
"And I am thrilled to have joined the Shohoz board, and for the opportunity to advise it on data-driven platform strategy." 
Andy considers Shohoz as an exciting vibrant company, which was roping in both domestic and foreign talents. 
"There is a lot of young talents in the company. I'm looking forward to using my expertise to guide Shohoz management on tailoring its product and pricing to serve the growing middle class of Bangladesh." 
He has chosen Bangladesh for another reason: the family of his girlfriend has recently got involved in the eyewear sector in Bangladesh. 
He said Shohoz stands out for two reasons: first, there is tremendous economic growth potential in this region both in traditional sectors such as garment manufacturing and in the technology business. 
Second, the leadership quality of Maliha Quadir, the founder and managing director of Shohoz.  
"Maliha has demonstrated her ability time and time to grow the company and she is been able to scale that up." 
She has been able to build her team and expanded to other areas. "That's been really impressive how she actually adapts to the new market," he said. 
Among Shohoz's business wings, Andy gives priority to the ridesharing segment for the company's growth.  
"Definitely ride-hailing service will be the driver of growth and it has the potential to grow. And my estimation is that the market serves only 20 to 30 percent of the potential market. And ridesharing has huge potential to generate huge amount of revenue." 
The segment is very competitive as well, but with e-ticketing and food delivery, Shohoz will be able to log a huge amount of profits, Andy said.  
Last year Shohoz raised $15 million from Golden Gate Ventures of Singapore to expand business and has recently made Ravi Garikipati, the immediate past chief technology officer of India's e-commerce unicorn Flipkart, a board member of the company. 
Andy said he and Garikipati can help the company grow further and this will help create interest among institutional investors about Shohoz.  
The investor is bullish about Bangladesh.  
He said Bangladeshi users are ready to accept digital products, so digital companies have huge opportunities to grow in the country. 
About the challenges in this market, he said the government needs to allow globally renowned players at least in the data centre business, linking local companies with global firms. 
The market is very small in terms of using digital services and the government needs to adopt policies that will be helpful to expand the market, he added. 
Andy also expressed his interest to expand his investment in other areas of technology business in Bangladesh.