Bangladesh still in second spot in global apparel trade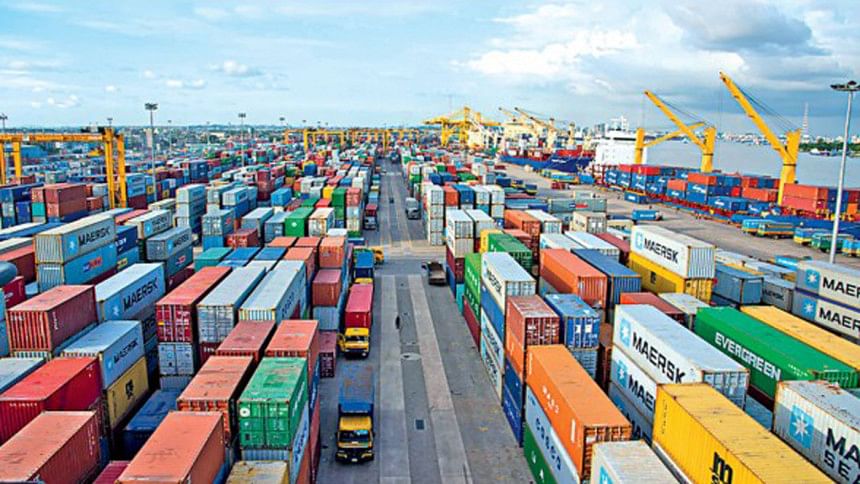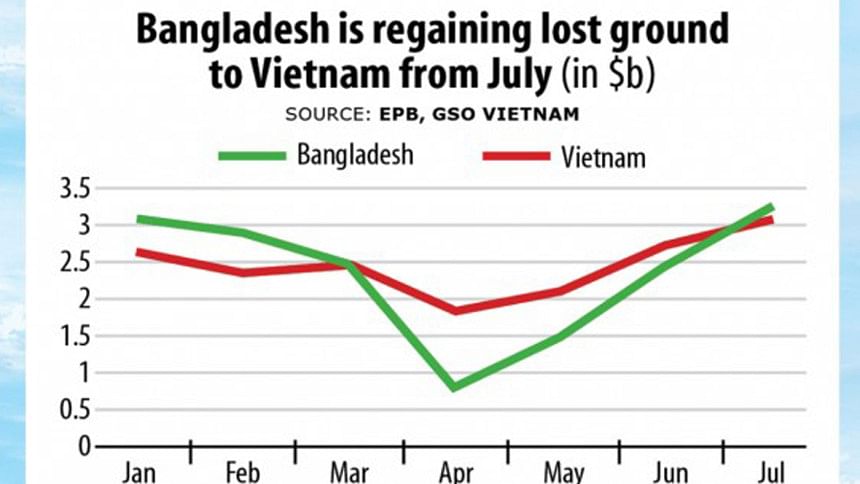 Officially, Bangladesh is still the second-largest garment exporter worldwide and it is expected that the country will be able to retain its second position globally because of the regular flow of work orders with the reopening of the stores in the western world.
Between January and July, Vietnam, Bangladesh's main competitor in global apparel trade, exported textile and garment items worth $16.2 billion. In that time, Bangladesh's apparel exports stood at $15.2 billion.
This might give off the impression that Vietnam has usurped Bangladesh as the second-largest supplier of apparel in the world.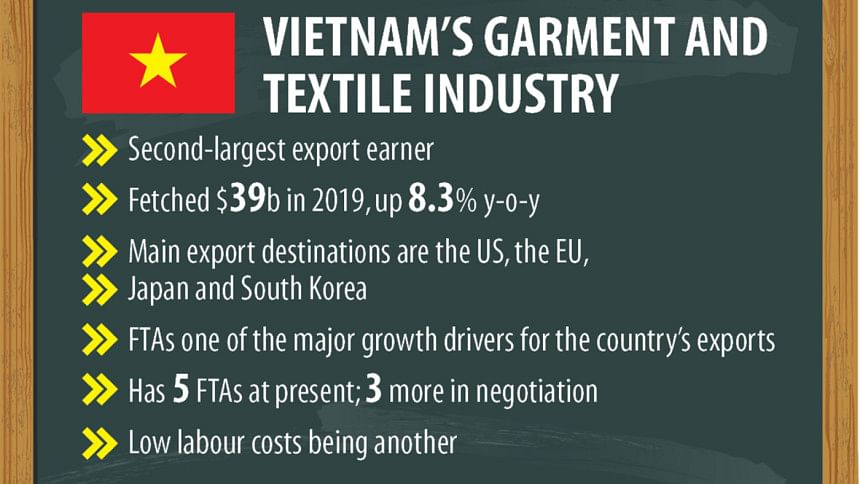 But there is a caveat: Vietnam's amount is counted for two items, textile and garments, while Bangladesh's amount is counted only on one item, garment.
So, Bangladesh is still far ahead of Vietnam in terms of garment export worldwide and still the second-largest exporter.
"You are not comparing apples with apples but apples with oranges," said Arshad Jamal Dipu, vice-president of the Bangladesh Garment Manufacturers and Exporters Association.
According to the latest data from the World Trade Organisation, which is of 2019, Bangladesh retained its second position in garment export, grabbing 6.8 per cent of the market share while Vietnam took 6.1 per cent.
In 2019, Bangladesh exported garment items worth $34 billion and Vietnam exported garment items worth $31 billion, the WTO data also said.
It may be noted that Vietnam exported about $9 billion worth of textile in 2019 as per the WTO report, Dipu said.
"So, if the textile export value can somehow be excluded from Vietnam's textile and clothing export, then Bangladesh would remain the second," he said.
Besides, there is no such authentic official data that proves that Vietnam has taken over Bangladesh to be the second-largest clothing exporting country.
"We are still in the middle of 2020, so we have to wait until July 2021 for the WTO data for 2020," he said.
However, the data that is being referred to in media reports these days to draw a comparison between Bangladesh and Vietnam is a misleading comparison.
Even if Vietnam takes over Bangladesh in the near future, it should not be a matter of surprise, because Vietnam has been registering higher export growth than Bangladesh and any other apparel exporting country in the past decade.
However, the question that may be asked is how Vietnam is being able to perform so well compared to Bangladesh.
And the answers would suggest where Bangladesh should put its focus in the coming days, Dipu said.
The BGMEA vice-president also said there was no debate on the fact that Vietnam has a better country competitive position than Bangladesh. At least the World Bank's doing business index reveals that fact.
Vietnam's industry is dominated by foreign investors, which is not the case of Bangladesh, so they are ahead of in terms of technology, management know-how, efficiency and skills.
They do also need less lead time than Bangladesh since China being next door to them makes the import of raw materials easier.
Furthermore, Vietnam has gained significant progress concerning design input and the making of patterns, which is one of the key success factors for them.
"And to be honest, Bangladesh lags way behind Vietnam in this respect."
Without making considerable advancements in the areas of pattern making and design development, it would be difficult for Bangladesh to move to the next level of apparel manufacturing.
Not only that, but Vietnam's progress and maturity in the area of economic diplomacy are also commendable.
The country has already entered into free trade agreements (FTAs) and regional trade agreements (RTAs) with several trade partners including the Association of South-East Asian Nations (ASEAN) and the European Union (EU).
The recent EU and Vietnam FTA and EU Vietnam Investment Protection Agreements testify Vietnam's capability in dealing with a trade partner like the EU.
"Bangladesh has to go a long way, especially when the least-developed country (LDC) graduation is a matter of time for us and we are going to lose trade benefits."
This will put the country's exporters in a disproportionately affected situation.
"We have to improve the capacity of our industry. At the same time, we need better infrastructure to further increase country competitiveness, which can be achieved through the optimised cost of business and lead time. Those are long term steps, but we need to make progress faster."
Bangladesh needs diversification of markets and to draw more local and foreign investments in high-end backward linkage industries, especially textiles, and forward linkage activities like putting up design and innovation centres.
Most of all, FTAs with right trade partners will be crucial for Bangladesh to keep pace with competitors, he said.
Moreover, the rebound shows that garment exports will also fare well soon, as the work orders are coming back to Bangladesh with the reopening of the economies and stores in the Western world, Dipu added.
Between 1 and 22 August, Bangladesh exported garment items worth $2.4 billion, which is 45.8 per cent higher than that of the same period last year, according to data from the BGMEA.
"It is a matter of hope that the buyers started taking back the previous cancelled work orders," said Mohammed Abdus Salam, acting president of the BGMEA. So, the local suppliers are getting back their previous arrear payments.
The sector was mainly shocked when nearly 100 big companies in the US and the EU became bankrupt due to the coronavirus pandemic.
However, in future, Bangladesh will face more competition from Vietnam because of the signing of the FTA between the EU and Vietnam, he added.
Vietnam has been moving very fast because they have a lot of facilities like many seaports, foreign direct investment (FDI) in textile and garment and advantages in lead time, none of which Bangladesh has, said Ahsan H Mansur, executive director of the Policy Research Institute (PRI).
Bangladesh should have encouraged the FDIs in textile and apparel items a lot earlier so that the country could earn more foreign currency and more employment generation and also technology transfer and technical knowhow.
Mansur went on to advise the government to engage the Association of Southeast Asian Nations, apart from traditional markets like the EU, the US and Canada, for increasing exports and enjoying tariff benefits.
He also recommended exploring the Asian markets like China, India and Japan more.
The local garment manufacturers and exporters should also think about their product diversification.
For instance, Bangladesh's concentration is 74 per cent on cotton-made fibres whereas the global fashion trend has been diverting to man-made fibres. 
So, Bangladesh should focus more on man-made fibre to make garment items for grabbing more of the market share worldwide, he said.