Bangladesh: a fertile plain for Japanese investment
Says Jica country chief Hitoshi Hirata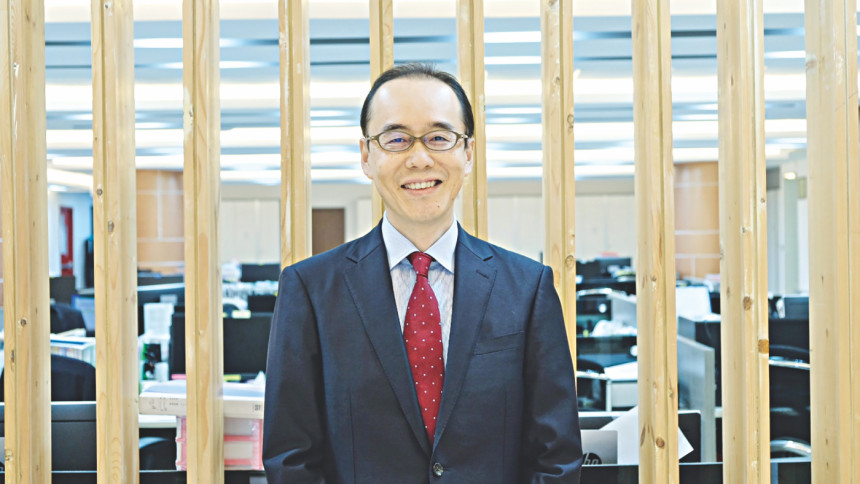 Bangladesh's per capita income will cross $4,000 within next decade and this will act as a springboard for the country looking to become a high-income economy, according to Hitoshi Hirata, chief representative of the Japan International Cooperation Agency (Jica).
In 2019, Bangladesh recorded an 8.15 per cent growth in GDP while per capita income reached $1,906 as per data from the International Monetary Fund.
"This is a very rapid growth. If a country achieves an average of more than 7 per cent growth per year, per capita income can be doubled within 10 years. So, it should be very easy for Bangladesh to double its per capita income within 10 years," said Hirata during an interview with The Daily Star on Thursday.
Since 2018, Japanese firms began to show interest to invest in Bangladesh and Hirata hopes this trend will continue through the country's partnership with the Jica.
"We are very pleased to be a partner that provides support for the development of infrastructure in Bangladesh as it will directly help the country attract more Japanese investors," he said.
The Matarbari deep seaport in Cox's Bazar, which is being built with financial backing from the Jica, is a good example of how the agency assists in developing the country.
The proposed deep seaport will be accessible for container ships that require more than 18 metres of depth and considering that Chattogram Port, the premier port of Bangladesh, is only accessible by vessels requiring less than 9 metres of depth. Logistic costs should diminish greatly once the project is complete in 2024.
The Jica is also involved in the construction of the third terminal at the Hazrat Shahjalal International Airport (HSIA) in Dhaka, which is expected to be complete within 2023.
"These two infrastructure projects will become logistic hubs in the country by 2041 and about 40 per cent of all container ships anchored in the country will be handled at the Matarbari Port," Hirata said.
The HSIA will have the capacity to accommodate an additional two crore passengers following the construction of the terminal, for which the Jica is providing 70 per cent of the funding.
Currently, the airport can handle eight million passengers a year but that number is expected to reach 14 million by 2025 and 24.8 million by 2035.
Besides, 42 per cent of Bangladesh's LNG supply will come through the Matarbari channel by 2041 while power plants in the area will account for 40 per cent of the country's energy production.
Therefore, both projects play vital roles in the implementation of the BIG-B concept, which was announced during Japanese Prime Minister Shinzo Abe's visit to Bangladesh in 2014.
"Since the plan was declared, our lending commitment to Bangladesh sped up and reached over $2.5 billion per year while it was only $1 billion in 2014," he added.
The Bay of Bengal Industrial Growth Belt initiative, simply known as BIG-B, aims to accelerate industrial agglomeration along the Dhaka-Chattogram-Cox's Bazar belt and beyond, encompassing developing economic infrastructure, improving investment environment and fostering connectivity.
Currently, there are more than 40 projects in implementation, of which 31 are being developed to improve infrastructure. This includes a few large-scale schemes for both hard and soft infrastructure.
Over the past five years, Japan has more than doubled its support for infrastructure development in Bangladesh and will continue to do so due to good bilateral relations, said Hirata.
Bangladesh has improved immensely in areas such as power generation, transport and port facilities in the last 10 years and this led to greater foreign investment in the country.
"Therefore, both Bangladesh and Japan will benefit from the projects currently in implementation as it will attract more foreign investors, including Japanese ones, for various sectors," the Jica chief representative to Bangladesh said.
Movement from Dhaka to Chattogram has now become far smoother thanks to the JICA's support in the construction of three bridges: Kanchpur, Meghna and Goumti.
"We tried to improve the infrastructure level between Dhaka, Chattogram and Cox' Bazar under the Big-B initiative to help attract foreign direct investment, not only from Japan but from other countries also," he said.
Bangladesh is very promising for Japanese investors due to the rapid economic growth shown by the country for the past few years. Besides, there is also a massive consumer market.
The purchasing capacity of Bangladesh's middle class is on the rise and the people are very comfortable with Japanese products, according to Hirata.
"If you consider the history of Japanese investment abroad, you will notice that the island nation first invested in ASEAN countries such as Thailand, Indonesia and Malaysia before going on to Singapore."
"Upon closer inspection, you will see that Japanese firms began investing in these countries in greater numbers once the infrastructure of those countries was developed."
"Now the next destination is definitely Bangladesh as infrastructure improvement is going on," Hirata said.
The number of Japanese firms operating in the country will also increase after the completion of the Japanese special economic zone in 2021.
After that, automobile, food processing, and leading manufacturing companies will come to Bangladesh and help diversify the economy, he said.
However, the ease of doing business in the country needs to be improved if Bangladesh hopes to compete with neighbouring countries like Myanmar, Thailand and Indonesia, he added.
Bangladesh's taxation system, customs duty, enforceable policies and value added tax system are some of the major challenges faced by Japanese firms looking to invest in the economy.
Investors make their decisions based on government policies. Therefore, if any government frequently changes policies on an ad-hoc basis, investor confidence is lost.
"Investors need policy support, and incentives to invest in any economy," said Hirata, adding that countries like Myanmar and India constantly improve their policies and incentive plans to attract FDIs.
Hirata also lauded the government's long-term plans while insisting that Bangladesh can become a developed country by 2041 if the economy continues to grow.
The government will need to provide quality education at primary and secondary schools since highly skilled individuals are required to achieve the country's goals, he added.
Bangladesh will be a top choice for Japanese companies seeking to expand their businesses in Asia and the Oceania in the next two years due to its high potential and profitability, according to a survey of the Japan External Trade Organisation (JETRO).
About 70.3 per cent of all Japanese firms in Bangladesh are mulling over an expansion while 23.4 per cent would like to remain the same and 1.6 per cent are considering a reduction.
As of December 2019, around 300 Japanese companies were conducting business in Bangladesh with investments reaching $386 million. Just a decade ago, there were merely 82 firms from Japan operating in the country.
In another project, the Jica will assist in the construction of a new dedicated railway bridge over the Jamuna river to improve the capacity and safety of rail transportation, said Hirata.
The agency also encourages the development of prototype motorcycle parts through technical support to local metal and plastic part manufacturers.
Besides, the Jica helped draw up the revised strategic transport plan, which outlined short-term (2025), and mid to long-term (2035) transport plans for Dhaka. The plans were approved in 2016.
The ongoing construction of metro rail and bus rapid transport projects will help solve the city's traffic congestion and could save over 35 million man-hours per day, according to Hirata.