Apparel prices fall 1.61pc in 4yrs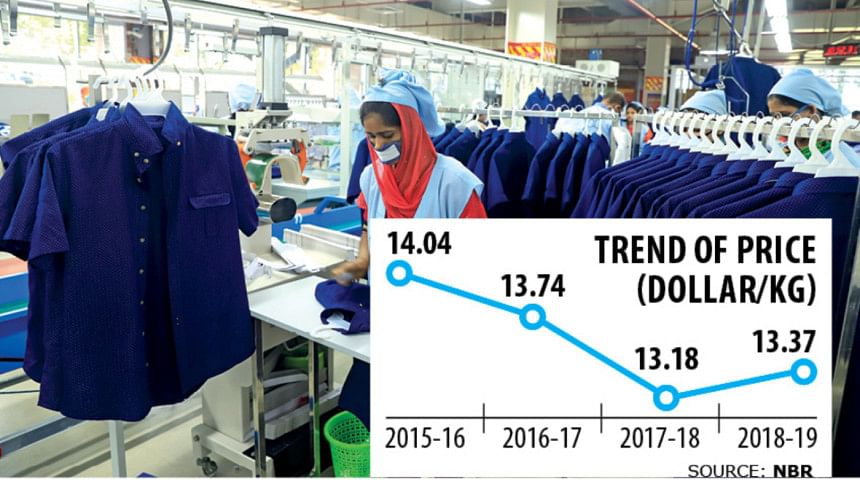 Prices of garment items exported from Bangladesh dipped by 1.61 percent over the last four years, a reflection of the pressure international clothing retailers and brands always put on the garment manufacturers for lowering prices.
If the period between fiscal 2015-16 and 2018-19 are taken into consideration, price per unit of garment items increased only last year by 1.42 percent, according to data from Bangladesh Garment Manufacturers and Exporters Association (BGMEA).
Per unit prices fell 2.12 percent in fiscal 2016-17 compared to the previous year and it experienced another fall of 4.07 percent in fiscal 2017-18.
In fiscal 2018-19, Bangladesh exported 2,430.12 million kilogrammes (kgs) of garment items, registering a 10.43 percent year-on-year growth, states data of the National Board of Revenue (NBR) compiled by the BGMEA.
In fiscal 2017-18, Bangladesh exported 2,200.51 million kgs of apparel, registering a 12.41 percent year-on-year growth, the data said, adding that in fiscal 2016-17 some 1,957.53 million kgs of garment items were shipped from the country.
In terms of value, Bangladesh—the second largest garment exporter after China—received $34.13 billion from apparel shipments in the immediate past fiscal year, posting an 11.49 percent year-on-year growth.
"Bangladeshi garment exporters have been receiving some of the lowest prices in the world, whereas we have been spending millions of US dollars for strengthening workplace safety and for better compliance," said Sharif Zahir, managing director of Ananta Group.
"Although the cost of production has been increasing every year, the retailers and brands are not increasing the prices for per unit of garment items they purchase from Bangladesh," he said.
Moreover, there are some faults in the whole supply chain of the garment business, said the chief of the garment group, which exported over $300 million worth of goods last year.
For instance, a pair of denim jeans purchased at $6 from a factory here is sold for $30 to $35 in stores in the western world, said Zahir.
"We need to improve the efficiency level of workers and mid-level management. We need to improve the negotiation skills with the buyers," he said, adding that the buyers should also come forward to cooperate in making better price offerings. Bangladesh's garment manufacturers and exporters have not been getting proper prices as they do not deal with buyers directly, industry insiders said.
Most of the businesses are dealt through third party vendors, which take away a major portion of the profit from the supply chain, they add.
So the profit is shared in many layers in the whole supply chain and finally the downward pressure falls on the garment manufacturers due to their poor negotiation skills, they said.
In recent years, the garment manufacturers have spent big amounts of money to strengthen workplace safety and ensure better compliance as per the recommendations of foreign inspection agencies, including Accord and Alliance.
However, the retailers and brands which sponsored Accord and Alliance did not recommend increasing the price level of per unit garment item, some factory owners said.
So far, some 2,000 garment factories have spent $5 lakh on an average each for factory remediation as per the recommendations of the Accord and Alliance, said Rubana Huq, president of the BGMEA.
However, prices were not increased and in some cases even the prices have been lowered, she said.
Many owners have even been running their units accepting prices lower than production costs hoping to just stay afloat and pay the workers as they cannot make profit, she said on different occasions over the last few months.
Amidst constant pressure from the buyers to lower price, some 30 factories have been shut down in the last two months, Huq told The Daily Star over WhatsApp.
"Some 1,209 factories closed down in six years. We are making huge losses. Prices are dipping. Products are not improving," she said. "Value addition literally insignificant. Has remediation given us nothing except businesses to remain here? Is continuity of business more important than sustainability?" she asked.
"Business model is set by individual businesses. But a common thread should be doing business with an ethical angle," she added.