30 investors claim Firstlead Securities swindled Tk 10 crore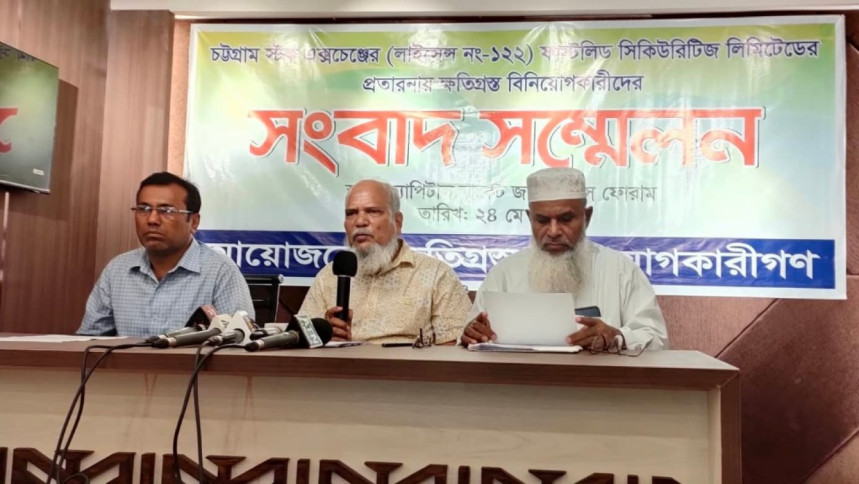 Thirty stock investors today alleged that Firstlead Securities, a stockbrokerage firm of the Chittagong Stock Exchange, has sold their shares and swindled funds of Tk 10 crore.
The investors came up with the allegation in a press briefing at the office of the Capital Market Journalists' Forum in Dhaka.
The managing director of Firstlead Securities sold all shares of the 30 stock investors who use to trade through the company's Dhaka office, said Md Ayub Khan, one of the stock investors.
"Firstlead Securities never sent any text or email to us about share sale. When we asked the brokerage house about the reasons of not sending any text, the broker said we will soon start receiving information when any share is sold."
"When we tried to transfer our shares to another brokerage firm, we came to know that Bangladesh Securities and Exchange Commission (BSEC) had already suspended Firstlead's trading rights," he said in a written speech at the briefing.
The stock market regulator had decided to suspend the trading activities of Firstlead in last August as it had failed to pay its customers properly.
Meanwhile, Khan blamed that Firstlead sold their shares though its trading activities were suspended for using duplicate software.
In this situation, the stock investors appealed to the authorities of the Chittagong Stock Exchange on last January 20 to take step to transfer the shares to their other beneficiary owner (BO) accounts.
However, the CSE did not take any step to transfer the shares.
"Meanwhile, the Central Depository Bangladesh informed us that we currently have no share in our BO accounts opened with Firstlead Securities."
Then, the investors sought help from the stock market regulator with the request to take steps to save their lives.
The stock investors present in the press briefing were: Mohammad Ali, Mohammad Ali Chokidar, Md Shahidullah, Krsihna Roy, Md Kamruzzaman, Saiful Islam and Mohammad Aynur Rahman.
Despite repeated attempts to reach Firstlead's Managing Director Muhitul Bari Muhith, The Daily Star could not reach him for comments. He did not even reply to the text messages sent by this correspondent until the filing of the report.