Local brands outshine imports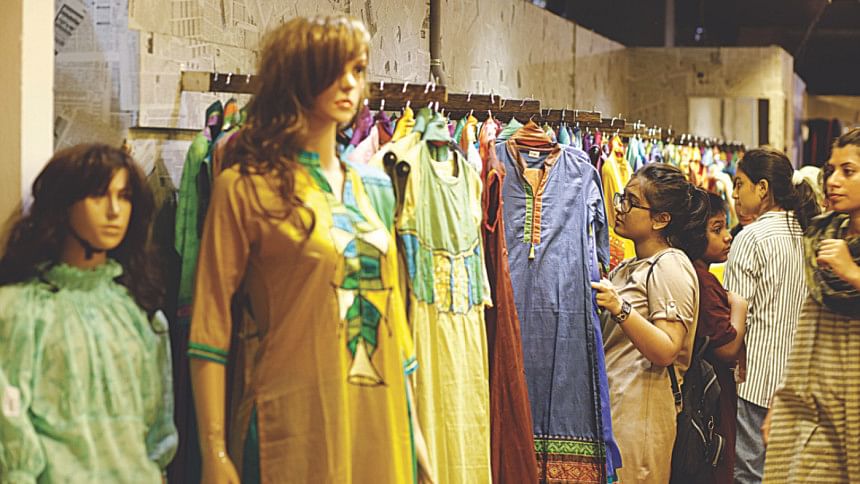 The dominance of clothing items imported from India, Pakistan and Thailand during Eid is gradually eroding as homegrown brands are making up ground.
This year, local brands, be it for clothes or footwear, seem to be outperforming imported items at different shopping centres in the capital.
A throng of customers can be found at the outlets of local brands such as Deshi Dosh, Aarong and Apex at all hours during this peak shopping season. Lower prices and a better understanding of customer tastes seemed to be doing the trick for them.
"I had to stand in the queue for more than half an hour just to pay for the shoes here. I have never seen such a rush," said a shopper outside the Apex store in the Bashundhara City shopping mall on Friday.
So he wised up: seeing the crowds at Aarong store he decided against entering the store to come back another day. It was the same story over at the Jamuna Future Park, New Market, Gausia and other big shopping hubs.         Storeowners thought the fright over the uniform 15 percent VAT on clothes would dampen sales ahead of Eid-ul-Fitr, the biggest shopping season in Bangladesh. But it did not happen.
Sales were slow at the beginning of Ramadan, said Azharul Haque Azad, president of the Fashion Entrepreneurs Association of Bangladesh (FEAB).
"Usually, consumers have a mindset that living costs will rise due to the new budget proposals, and as a result, they remain cautious about expenditure."
Azad estimated that the total sales of local clothing brands would come to about Tk 4,000 crore this Eid.
The homegrown brands are doing much better vis-à-vis foreign brands this time, said Azad, also the owner of Sadakalo, another local clothing brand.
"I prefer the local brands as the price is reasonable," said Roksana Yesmin Tithi, a service-holder who came to Bashundhara City on Saturday to finish her Eid shopping.
Nabila Ahmed, who works at a local private bank, was the exact opposite: she prefers imported salwar suits as there are more options. "The price is high but the designs and quality are to my liking."
The sales of fashion houses were slow until the 15th of Ramadan due to adverse weather, said Shahin Ahmed, vice-president of the FEAB. He, however, sounded less sanguine than Azad: though sales increased from the last week it will not cover the expected turnover.
Ahmed, also the chief executive officer of local clothing brand Anjan's, said the demand for saris, especially in cotton and traditional weave, is more than for salwar suits.
At Anjan's, salwar suits are selling for Tk 3,000 to Tk 4,000 and saris between Tk 1,500 and Tk 5,000.