Int'l incoming calls lowest in nine years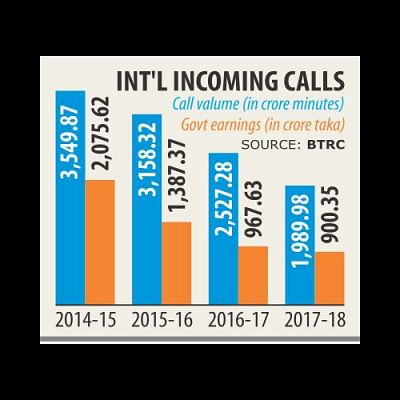 The international incoming voice call minute has dropped by three-fourths in the last three years, as people progressively switch to internet-based mobile apps that cost nothing to communicate abroad.
At present, 3.20 crore minutes of international incoming calls are terminated every day, which is the lowest volume in nine years.
At the beginning of the year the incoming call volume was 5.5 crore to 6 crore minutes a day, while three years back it was about 12 crore minutes, according to officials of the Bangladesh Telecommunication Regulatory Commission (BTRC).
A significant portion of the international calls are now being made through internet-based platforms such as Skype, WhatsApp, Viber, Imo and WeChat, which cost nothing other than the price of data, said industry experts.
As a result, the government's earnings from the sector are shrinking: in fiscal 2017-18 it got Tk 900.35 crore from the sector, in contrast to Tk 2,075.62 crore four years earlier.
The hiking of international call termination rate, which made making calls home for expatriate Bangladeshis costlier, and allowing a cartel in the system are the other reasons behind the sinking incoming call volume, said industry experts.
In February, the international call termination rate was raised to 2.5 cents from 2 cents, which has resulted in a spike in international calls through the illegal channels.
"We are taking different measures and running huge raids but the situation is not improving," said a senior official of the telecom watchdog, requesting not to be named.
In the last couple of months, the regulator blocked more than 1 lakh SIMs and seized a huge amount of equipment through which international incoming calls are illegally terminated.
And yet, the incoming legal call minutes are not increasing.
Md Jahurul Haque, acting chairman of the BTRC, said they are trying their level best to improve the situation.
"Increasing call termination rate is not in our hand so I can't comment on it. But it is true that if there is a huge margin between legal and illegal channel, you cannot stop it only by running raids," he added.