Importers move to curb illegal inflow of handsets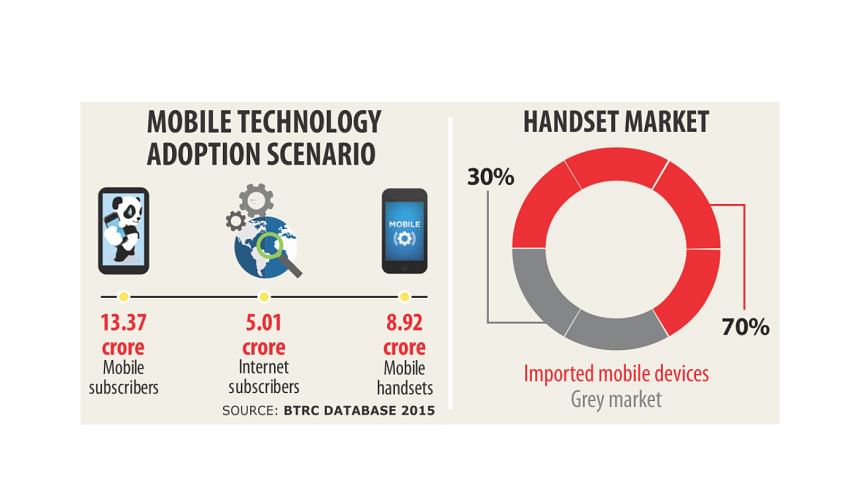 Mobile importers have moved to curb the inflow of unregistered and smuggled handsets into Bangladesh.
There are currently 8.92 crore handsets in the market, about 30 percent of which were brought in through illegal channels, depriving the government of about Tk 200 crore in duties a year, according to Bangladesh Mobile Phone Importers' Association or BMPIA.
The BMPIA will introduce hologram stickers to tag legally registered handsets, said Rezwanul Haque, general secretary of the importers' platform.
The association also plans to set up an automated no-objection certification (NOC) process with the telecom regulator to empower customers to check their handsets' provenance.
After establishing a database with the NOCs as well as the approved International Mobile Station Equipment Identity or IMEI, which is a 15-digit unique number for every handset, it will also help ensure security, Haque said.
"We will also soon introduce a five-digit short code, where users can call to check their handsets' IMEI numbers. They also can verify the IMEI on our website."
State Minister for Telecom Tarana Halim will launch the database in a ceremony at the Westin Dhaka on February 9.  However, the association is not planning to take any action against the unregistered handsets currently in use, officials said. 
"For now, we are focused on digitising the registration process, and may use it for regulatory purposes after the database is properly enriched over the next few years," Haque said.
Some 50,000 handsets are stolen or lost in Bangladesh every year, and a proper database will help with recovery and curb related crimes, the association said.
Currently, fake IMEI are not detectable in Bangladesh, which makes it easy to use those to carry out criminal acts like kidnapping, officials said, for which they are working to stop the inflow of such fake IMEI handsets.
Bangladesh imported 2.59 crore handsets last year, with 15 percent year-on-year growth.
On December 16 last year, all mobile phone operators began the re-registration process for all subscriber identity modules or SIMs through the biometric system, also to boost security.