On the lookout for a new refrigerator?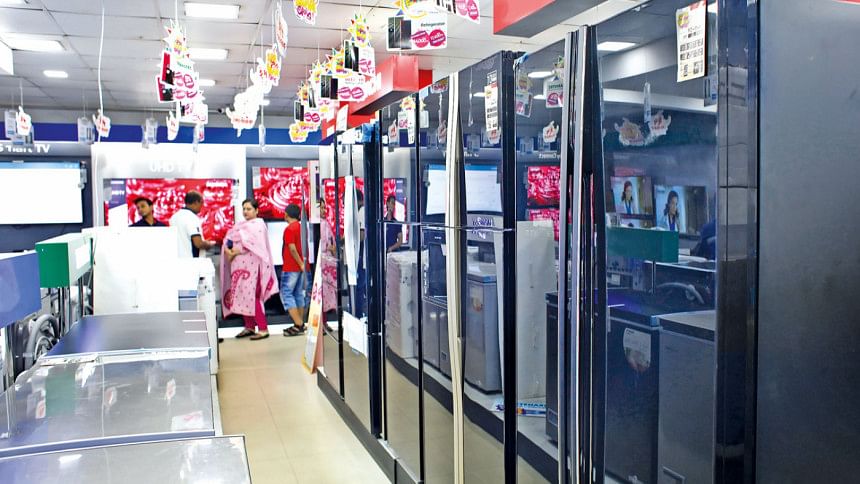 When the list of options is endless, what exactly do you consider when you are about to buy a refrigerator? Not only is it a large purchase, both budget- and space-wise, most consumers will also use it for the best part of the next decade. So, it is always good to know a thing or two about what's on offer.
As Eid-ul-Azha knocks on our doors and consumers scurry through brands and shops, anxious over the perfect refrigerator to buy, The Daily Star weighs in on the options, to make the process a little less daunting.
To start with, there are four basic types of refrigerators: top freezer, bottom freezer, side-by-side and French door.
Top freezer
This is the model that is most commonly owned and sold, perfect for small households with limited space. It is a single-column refrigerator, with the top third dedicated to a separate freezer compartment.
Worth noting is that this is usually the most energy-efficient type of fridge, about 10-25 percent more efficient than other types. So, if electricity bills are a concern, this could be the pick for you.
Bottom freezer
A bottom freezer fridge is just like a top freezer fridge, with the obvious exception being that the freezer compartment is at the bottom. These models are less common, which means less variety.
Side-by-side
These fridges are essentially wider-than-usual fridges split in half, with one half being the fridge side and the other being the freezer side. For those who tend to freeze leftovers in high volume, or exist on freezer food, this type of fridge may be ideal.
Fancier looking and a must for modern home-seekers, this model often comes with features such as water, ice dispensers, and external user interface panels. Users can switch between ice crush features and set temperature blast modes, just at the touch of a button.
French door
Possibly the most versatile (and most expensive) type of fridge is the French door fridge which is similar in width to side-by-side models, and have the entire bottom third devoted to freezer space.
The main advantage to this slightly elaborate door configuration is that opening one of the half doors lets less cold air out than if you swung open both. You are most likely to save on power bills as you let less cool air out every time you fling open a door.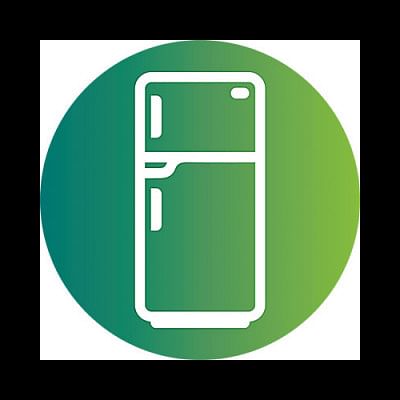 Chest freezer
Eid is a time of giving and sharing with people in need, friends and family. But you still might be left with quite a bit of meat to store, even after sharing. Also, you may avoid going to the wet markets on a regular basis and you would like to stock up on poultry, fish and meat for later use. It would be wise to invest in a chest freezer (commonly known as a deep freezer)—extra freezer space comes at a cost, but it can help you save money in the long run.
Most importantly, when there is a blackout, the chest freezer will keep your food frozen longer than an upright one.
Chest freezers have around 20 percent more useable space than an upright freezer. Available in a wide range of sizes, consumers should make their pick depending on the number of family members. 
The temperature in a chest freezer stays consistent because it doesn't have a self-defrost system. Air also does not circulate much in a chest freezer, which helps prevent freezer burn better.
They also tend to use less electricity than uprights, but be sure to compare "Energy Saver" tags while you are shopping to see which models are more energy-efficient.
However, these varieties do not have much option for organisation. Users may have to rummage through all the food in the freezer before finding the one they want. Some brands have one or two baskets for separation.
Both upright and chest freezers are available in manual defrost styles. This freezer type requires periodic emptying and disconnection from power to let the ice melt enough to be removed—a chore that is often messy and time-consuming. If power bills at the end of the month are a concern, this is the option to go for as it uses approximately 40 percent less energy than frost-free freezers.
But if convenience is a priority for the busy homemaker, many brands come with a defrost function. A frost-free freezer routinely defrosts itself every 24 hours, so there is no frost or ice build-up. The temperature does not significantly fluctuate, so the food quality is not compromised by defrosting and refreezing.
Many users swear by the inner aluminium lining of the freezer, which is known for its impermeability to odours and moisture, and it is better than plastic.
While you are at it, be sure to look out for the fast freeze function that is readily available these days. This feature is necessary for preserving most of the minerals in the food and it helps chill large quantities of food fast.
Is it safe to freeze food?
Let's admit it. We do freeze and reheat our food because we are too busy to cook every day. This is the age of the nuclear family and single-person households. Working professionals or busy homemakers, cooking every day is a different ball game altogether.
Naturally, we levitate towards food items and dishes that can be frozen or preserved in the refrigerator for a few days. From storing packaged foods to marinated chicken, we have adapted a number of time- and labour-saving methods to make our lives easier.
Freezing regular home-cooked food gives the food a longer shelf-life and can therefore be eaten later. Freezing meat and fish definitely gives them a longer shelf-life, as it prevents bacteria from being formed and are thus considered to be safe for consumption.
Pro Tip:
Many think that the best way to thaw frozen items is to let them sit outside the freezer for hours. Wrong! The best way is to thaw it in the refrigerator itself as bacteria grows and reproduces faster at room temperature.