Home textile exports fail to reach potential
Bangladesh faces stiff competition from Pakistan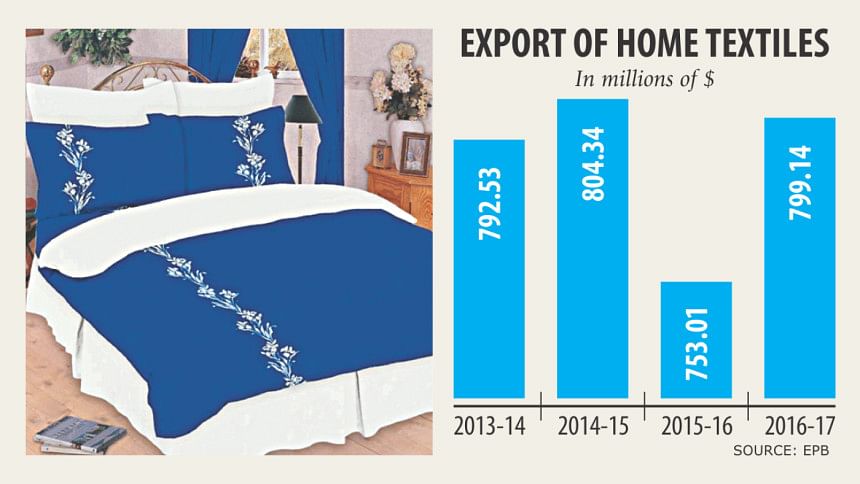 Despite having huge potential in home textile, Bangladesh is unable to expand its market share in the European Union because of duty benefits extended to Pakistan, a cotton grower.
Bangladesh, on the other hand, is a 100 percent cotton importer.
In December 2013, the 28-nation bloc granted Pakistan the GSP Plus status for four years. The GSP Plus status allows 20 percent of Pakistani exports, including home textile, to enter the EU at zero duty and 70 percent at preferential rates.
"Bangladesh has been competing with Pakistan in the same market in the same product category, so it is difficult to perform better," said Md Shahidullah Chowdhury, executive director of Noman Group, which counts retail giants like IKEA, H&M, Kmart, Walmart and Carrefour as its customers.
In 2016, more than $6.86 billion worth of home textiles were imported from outside the EU, according to data from the European Apparel and Textile Confederation, Euratex.
Of the sum, China accounted for 33 percent, Pakistan 25 percent, Turkey 16 percent and India 11 percent. Bangladesh's share was 7-8 percent.
Besides, there were remarkable gains in value for Vietnam, Morocco, Taiwan and Ukraine, according to the data.
"Apart from China, the other countries like Pakistan, India and Turkey have their own advantages," Chowdhury said.
For example, all four major home textiles exporters -- China, Pakistan, Turkey and India -- have their own cotton.
Still, Bangladesh's home textile market share in the EU has been increasing in recent years as local manufacturers are becoming adept in this particular segment, Chowdhury said. Currently, Bangladesh has only five major home textile makers and exporters, he said, adding there are some small ones whose volume is still low. In contrast, the other countries have hundreds of such millers raring to get a slice of the $130 billion global home textile market.
Noman Group exports home textiles such as bed sheets, pillow covers, curtains, cushion covers and bed covers worth nearly $200 million, 80 percent of which is EU-bound, in a year.
The retail value of the home textile segment was estimated to be about $107.24 billion in 2014 and is expected to reach $131.50 billion by 2020, according to industry insiders.
In 2016-17, Bangladesh's home textiles export increased 6.13 percent year-on-year to $799.14 million, according to data from the Export Promotion Bureau.
Bangladesh, the world's second largest apparel exporter, could have had a bigger share of the European home textile market if the exchange rate between the euro and the US dollar was more favourable, exporters said.
The volatile currency exchange rate ate up about $3 billion of export value last year, as Bangladesh's foreign dealings are in the US dollar.