Ha-Meem Group fires 91 workers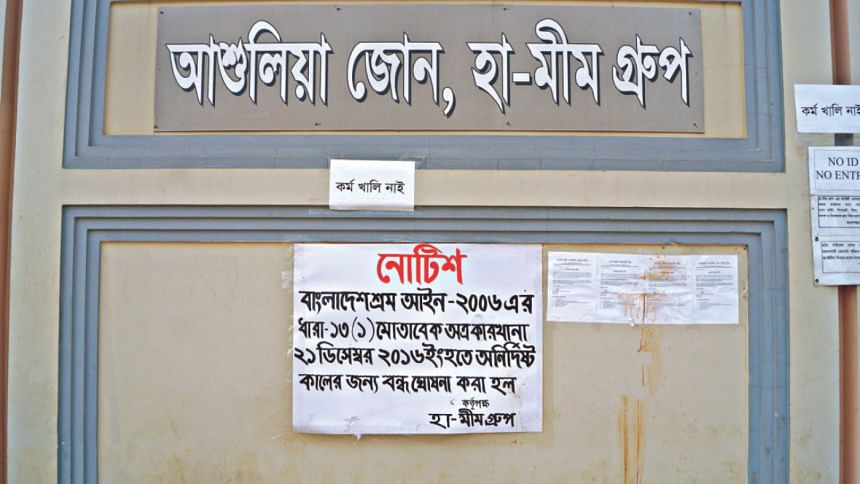 Leading garment maker Ha-Meem Group yesterday terminated 91 workers from its four units for their alleged involvement in worker unrest in Ashulia, according to a notice published by the company.
Ha-Meem posted the notice on its factory wall along with the pictures of the terminated workers.
AK Azad, managing director of Ha-Meem Group, did not answer repeated phone calls from The Daily Star for comment.
Ha-Meem Group employs around 50,000 workers and has 26 garment factories supplying products to global retailers including H&M, Gap Inc, Kohl's, Tommy Hilfiger and JC Penney, according to the company's website.
With the latest, a total of 368 workers of different garment manufacturing companies were sacked over the labour unrest in the industrial hub of Ashulia, where there are more than 350 apparel factories.
On Wednesday and Thursday, Windy Apparels Ltd terminated 142 workers and Fountain Garment Manufacturing Ltd 135 workers.
Meanwhile, the management of Sharmin Group on Saturday night filed a case with Ashulia Police Station against 60-70 unnamed workers.
Earlier on Wednesday, Ha-Meem Group filed a case against two workers and 500 unknown people.
The number of cases tied to labour unrest now stands at 10, said Mohsinul Kadir, the officer-in-charge of Ashulia Police Station.
This correspondent visited several areas of Ashulia yesterday morning and found that many workers went to their factories but returned home as the units were closed.
In the face of continuous labour unrest, 59 Ashulia-based garment factories were shut down this month -- apparently to prevent a spillover of agitation to neighbouring units.
The closure was announced at a hurriedly called press conference at the office of Bangladesh Garment Manufacturers and Exporters Association or BGMEA.
The owners closed down their units for an indefinite period as per provision 13(1) of the labour law which provides for "no work, no pay", according to the BGMEA. BGMEA President Siddiqur Rahman had earlier said the owners were losing Tk 100 crore a day due to the closures.
The unrest-hit garment factories will reopen today after a shutdown over the last two weeks, Rahman said yesterday.